Food blogging has its ups and downs.
Do I destroy my kitchen on a regular basis? Yes. Yes, I do. (So. Many. Dishes.) But I also get to taste, test and tweak all kinds of delicious recipes every week – proving that you're never too old to play with your food.
 
Of course, it's always a joy to experiment with the latest products and trends. (I get pretty darn giddy about Tastefully Simple's new catalog every season.) But do you know what has been one of the most fun surprises over the years? Finding favorites that I really love to make over and over again.
Maybe you bookmark your favorite recipes. Pin them. Send them to friends. Write them down in a recipe keeper or notebook that eventually looks like a crime scene because of the sauce that's splattered on the pages. (No? Just me on that one?)
Here's my point: tried-and-true recipes are worth sharing.
So today I'd love to share a few of my personal favorites for summertime. Behold … the best burgers!
Blogger Picks: 5 Best Burgers for Summertime
#1: BEST EVERYDAY BURGER


Smokehouse BBQ Burgers

Fun fact: Smoky Bacon BBQ Sauce is my favorite BBQ sauce of all time, and frankly, I've tried a lot of them. I also love to mix ¼ cup of it + ½ cup ranch for the perfect smoky-sassy Southwestern dressing. So good for dunking chicken tenders, too!
You can keep it simple by adding a drizzle of this thick, rich BBQ sauce onto grilled burgers (boom – done!). Or you can take it up a notch with these sizzling smokehouse burgers, stacked with peppered bacon, smoked Cheddar cheese and crispy onion strings. Our whole family loves them!
#2: BEST KID-FRIENDLY BURGER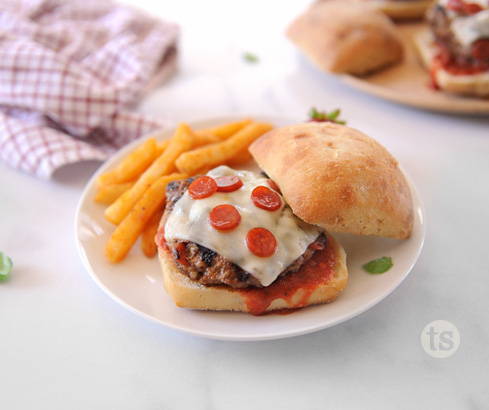 Mama's Pizza Burgers
Pizza. Burgers. It's the best of both worlds, especially if you have any pint-sized picky eaters in your house. Made with the cutest little mini pepperoni, melty mozzarella and saucy spoonfuls of marinara, these juicy burgers are always a kid favorite. Serve 'em with oven fries and fresh fruit.
#3: BEST PUB-WORTHY BURGER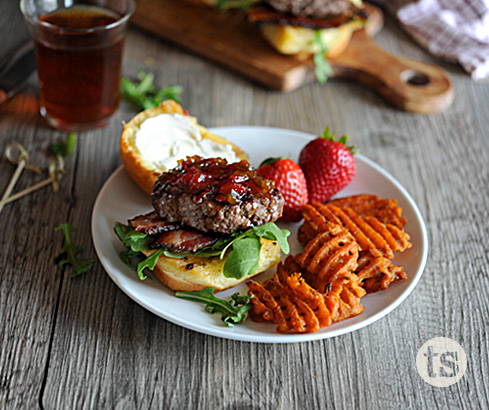 Love jalapeño poppers? This one is your jam – and I mean that literally.
Loaded with sweet-tangy jalapeno jam, smoky bacon, and a generous schmear of cream cheese on soft brioche buns, these pub-style burgers were inspired by a popular favorite at my local brewery. Honestly, if I could only eat one burger for the rest of my life, it would be this one.
Runner-up: If you like this sweet-and-savory flavor combination, try Bacon Brie Burgers. I love these, too!

#4: BEST RESTAURANT-STYLE BURGER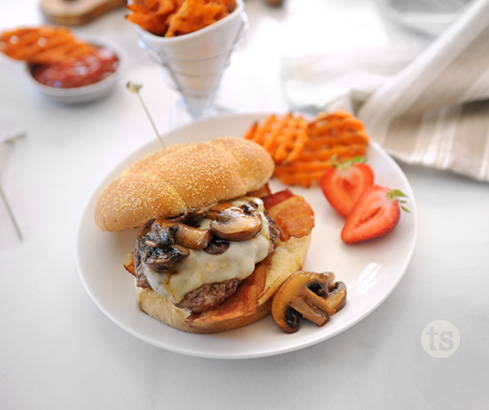 Teriyaki Mushroom & Swiss Burgers
No need for take-out. You can make your own restaurant-worthy beefy burgers at home, piled high with sautéed mushrooms and melted Swiss. These beauties are my husband's favorite, and they are ready from start to finish in less than 30 minutes.
By the way, the tender teriyaki mushrooms are also delicious with steak.
#5: BEST TURKEY BURGER
Think turkey burgers are bland and boring? Think again.
Topped with zesty pepper jack cheese and creamy guacamole, these Tex-Mex turkey burgers are packed with fresh and delicious flavors. You can skip the bun if you're cutting carbs this summer, too.  
Now it's your turn!
Stuffed burgers. Pork burgers. Veggie burgers. What are some of YOUR all-time favorite burger recipes? Share your favorites with us on Facebook or Instagram.
We'd love to hear what you "flip" over!
– Jen