Hey there, campers!
Summer is almost here, and there's something about the crackle of a campfire that always makes you feel like a kid again. I mean, who doesn't love roasting gloriously gooey marshmallows or looking up at the starry skies on a warm summer evening, right?
But whether you love the great outdoors or "outdoorsy" for you means drinking on a patio this summer, don't worry – we've got you covered! From the bonfire to the backyard, here are some sweet outdoor desserts – guaranteed to make everyone a happy camper.

8 Cool Desserts for Camping & Grilling 
1. Grilled Strawberry & Pound Cake Kabobs. Stacked with toasted marshmallows, strawberries and cubed pound cake, these sweet skewers make a delicious summertime treat.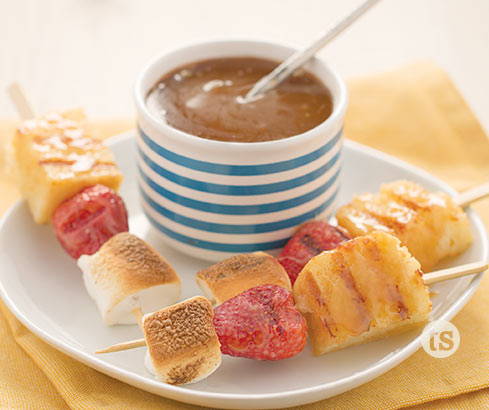 Use your grill, or carefully place them on a grate over the campfire, rotating occasionally, until the marshmallows are roasty-toasty.
2. S'more Mocha Muddy Buddies. Planning to hike? Or worried about a rainy forecast? Bring along this s'more-inspired snack mix (aka "puppy chow"), filled with crunchy grahams, mini marshmallows and mocha sweetness. No campfire required!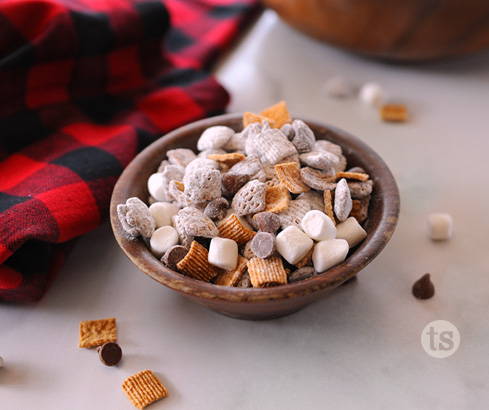 Tip: store in a large container, but reserve a couple individual portions in small resealable bags to tuck into backpacks. Oh, and if you'd prefer a fruity version, try this citrusy version instead: Key Lime Pie Muddy Buddies.
3. Campfire Berry Cake Skillet. Buttery pound cake. Fresh summer berries. Melty chocolate.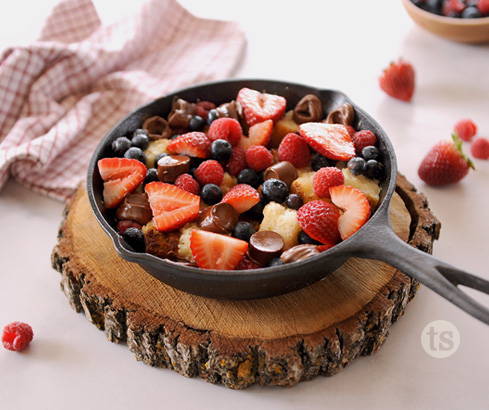 Simply bring a prepared Absolutely Almond Pound Cake in your cooler, and you'll be able to assemble this heavenly campfire skillet in minutes. Tip: use caramel-filled Rolo® or Caramello® chocolate candies for your skillet, or roughly chop up other bite-sized favorites like Snickers® or Milky Way®.
4. S'mores with Creamy Caramel Sauce. Honestly, it's hard to improve upon perfection. But I think it's possible with a drizzle or dollop of creamy, buttery caramel sauce.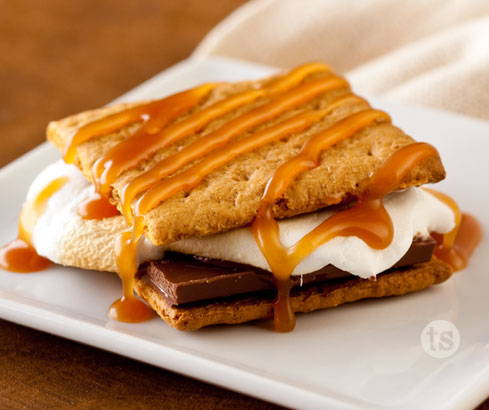 Try this super-simple twist on a classic childhood favorite!
5. Grilled Pineapple Right Side Up Cake. Staying close to home? With lightly grilled cake and juicy pineapple, this tropical dessert is a real breeze – making it perfect for the backyard or patio.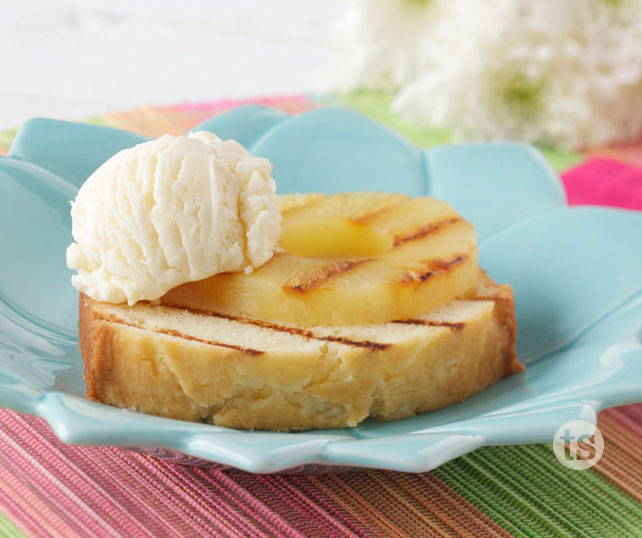 Serve warm with ice cream. Try this one with grilled peaches, too!
6. S'more Campfire Cake. Bring rich chocolate, ooey-gooey marshmallows, and honey-kissed grahams together in one easy skillet.
Just pack a prepared Classy Chocolate Pound Cake alongside your usual s'more fixings, and you'll have the perfect campfire dessert. (By the way, on a rainy day, you can also bake this skillet in your oven at 350°F for 10 minutes and then broil 1-2 minutes.)
7. Campfire Cones. Have you ever created campfire cones? Fill waffle cones with marshmallows, chocolate chips, and your favorite ice cream toppings. Wrap 'em with foil, grill, and voila!
8. Mix-and-Match Dessert Nachos. You can use the same idea to create "dessert nachos," too. For a s'more version, simply toss together broken graham crackers, marshmallows and chocolate bars in an 8 x 8 foil pan.
Or if you like sweet-and-salty combinations, try crispy pretzel thins with marshmallows, caramel bits, chocolate chips and a few dollops of Rhubarb Strawberry Fruit Spread.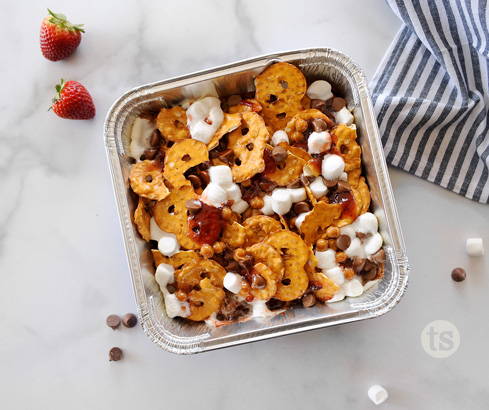 Cover with foil, and place on a grate over your campfire until the marshmallows begin to melt, about 7-10 minutes. You can try all kinds of different combinations!
It's time to unplug and unwind, friends.
Let's take it outside!
– Jen