This year, Thanksgiving will be a bit different for most of us. The same goes for fall gatherings with friends. (Honestly, I'm a little sad about missing out on "Friendsgiving" with my office crew.)
But you know what? We all have a chance to try something different and start a new tradition or two this fall. If you're not quite sure how to make those holiday celebrations small yet special, behold … easy autumn apps!
Having an all-appetizer night with your family instead of a big dinner or experimenting with a couple new apps for Thanksgiving can be a great way to change up your routine. From brie bites to delicious dips, here are a few of our favorite fall appetizers to help you get started!
9 Fun & Festive Fall Apps
1. Holiday Spiced Brie Bites. Sweet bits of spiced apples. Creamy baked brie. Crispy pastry shells. So cute and colorful, these perfectly poppable apps are perfect for the holidays.
Plus, these bite-sized beauties are delicious warm or at room temperature – which can be a lifesaver if you're busy multi-tasking in the kitchen.
2. Smoky Cranberry Meatballs. So saucy, tangy and smoky, these sassy meatballs get an unexpected zing with sweet-tart cranberries and rich barbecue sauce. You can keep 'em on the "warm" or low setting on your slow cooker so everyone can grab-and-go for grazing all afternoon, too.
See the recipe below at the bottom of this post! If you're not a cranberry fan, these Bayou Chili Meatballs are a delish option, too.
3. Deviled Egg Pumpkins. Want to put a fun fall twist on traditional deviled eggs? To create a pumpkin-inspired look, add a sprinkle of smoked paprika and insert snipped chives on top of the yolks for the "stems" … that's it!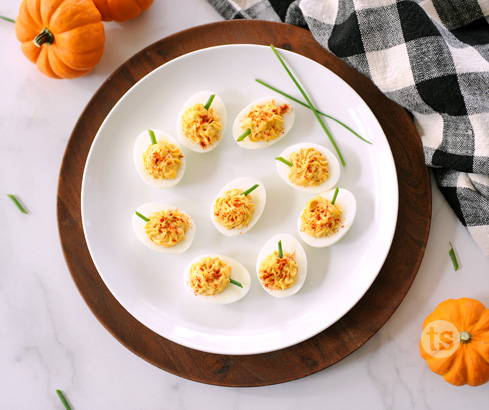 So easy, right? You'll find a delicious recipe below, and remember – you can make them up to a day ahead of time, too. Just store the egg whites and filling your fridge in separate airtight containers, and then assemble them whenever you're ready.
4. Cheesy Artichoke and Spinach Warm Dip. Classic and creamy, this crowd-pleasing dip is absolutely delicious for dipping chips, crisp veggies or (my personal favorite) cubes of Bountiful Beer Bread.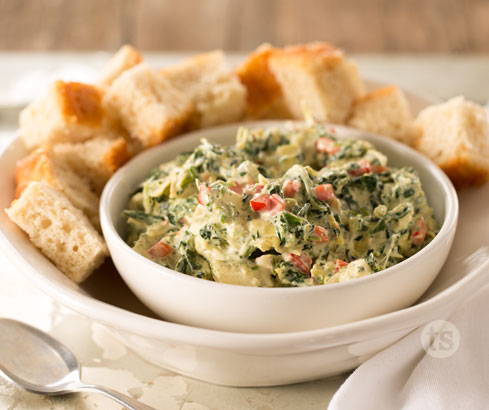 Any leftovers reheat beautifully, too – making it great for a small group.
5. Spiced Apple Sausage Bites. Looking for something hearty? Filled with pork sausage, apple-berry sauce and a pinch of chopped pecans, these sweet and savory cups are filled with fall flavors.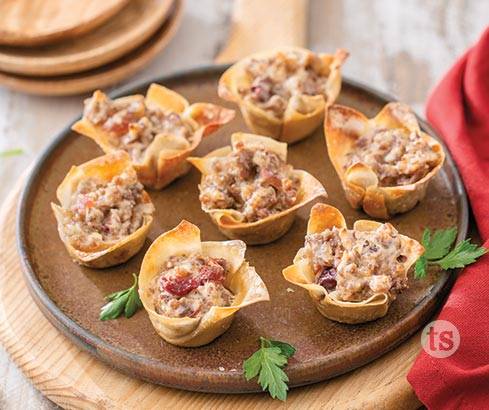 6. Antipasto Kabobs. Perfect for snacking, these light little skewers are stacked with fresh cucumbers, tomatoes, salami and mozzarella pearls – all drizzled with a splash of rich balsamic.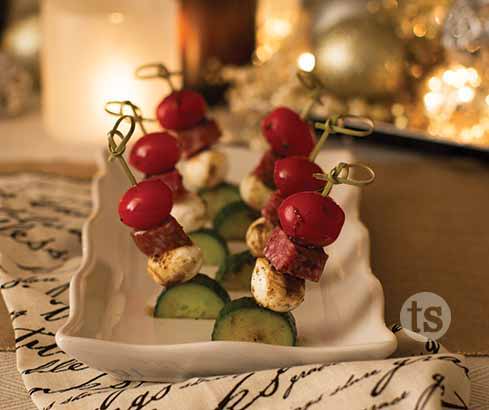 7. Honey Teriyaki Chicken Bacon Bites. Smoky. Sweet. Salty. Confession: I've made these 100 times over the years. (Ok, that might be a SLIGHT exaggeration, but not by much.) I made them for my first holiday dinner with my in-laws, and they've requested them for every gathering ever since.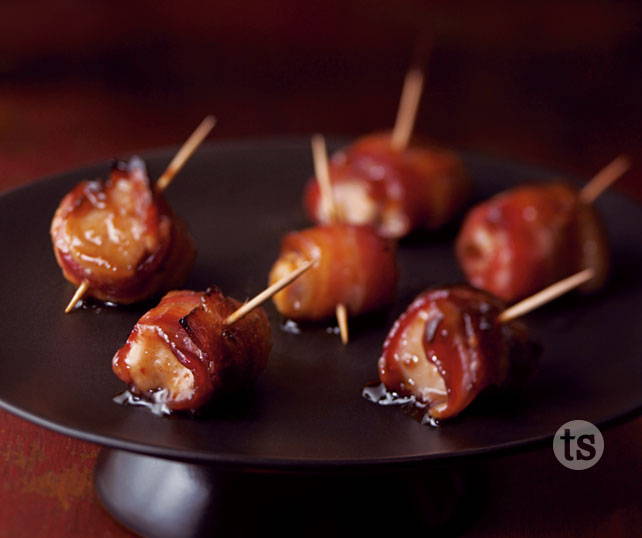 8. Holiday Cranberry Cheese Log. Isn't this gorgeous?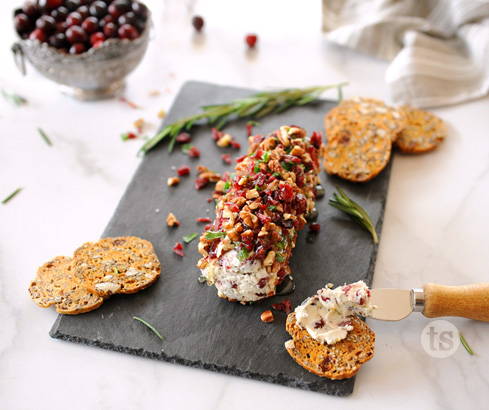 Perfect for wine-and-cheese lovers, this festive cheese log is bursting with creamy gorgonzola, dried cranberries, chopped pecans and a hint of savory herbs. (See the full recipe below. Oh, and if you're not a gorgonzola/blue cheese kind of person, substitute ½ cup shredded white Cheddar instead.) Great for date night in, too!
9. Balsamic Shrimp Stuffed Mushrooms. And last but not least, stuffed mushrooms are always a classic favorite for the holidays. Try this deliciously different twist, filled with tender baby shrimp and buttery breadcrumbs.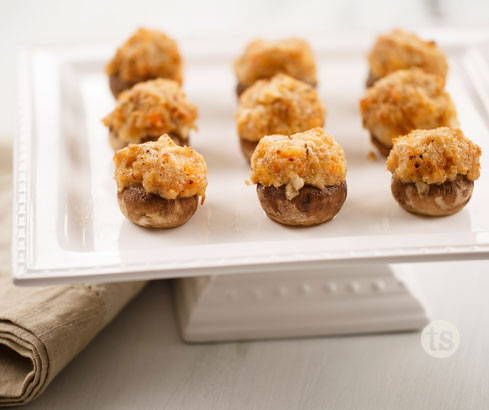 Small bites. Big flavors. Whichever ones you choose, I wish you and yours the happiest of Thanksgivings!
– Jen