I know, I know. It's not even Thanksgiving.
Under normal circumstances, I admit: it's a little early to start thinking about holiday baking and entertaining. But it's been a weird year, people.
Here in Minnesota, we had our first big winter storm over a month ago, which is early for a blizzard – even by our standards. In fact, half of my friends took down their Halloween decorations and started hanging holiday lights and decking out their trees. Typical? Not exactly. But in 2020, I think anything goes – and we could all use a little extra cheer.
So are you excited to get into the spirit? Grab your slippers, and turn on those Hallmark movies. Today we're making cute cupcakes, perfect for the holidays!
How to Create Christmas Tree Cupcakes
Here's how to make these charming cupcakes, complete with step-by-step photos. You can also see the full recipe here »
Step 1: Bake Cupcakes
Preheat your oven to 325°F. Prepare Absolutely Almond Pound Cake Mix batter as directed on the package with 1 cup water and ¾ cup melted butter. Pour the batter into 1 (12-count) paper-lined muffin tin, and bake 25-30 minutes. Let 'em cool completely.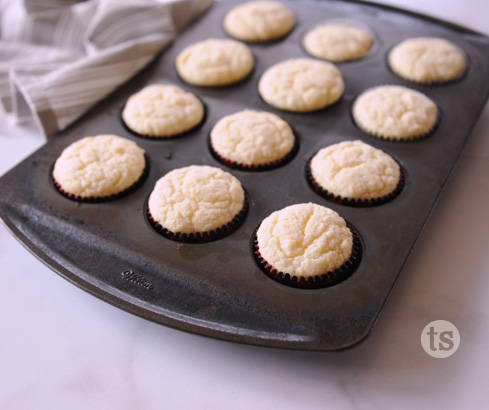 Step 2: Get Frosty
For the frosting, beat 4 oz. softened cream cheese and ¼ cup softened butter with an electric mixer. Add 2 cups confectioner's sugar and 1 tsp. vanilla extract; beat until smooth. Voila!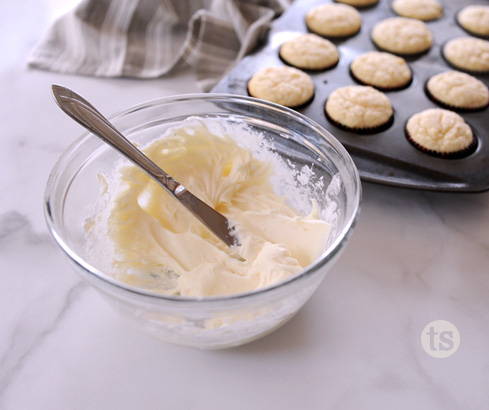 If you're short on time, you can use canned cream cheese frosting, too. Now spread it on your cupcakes …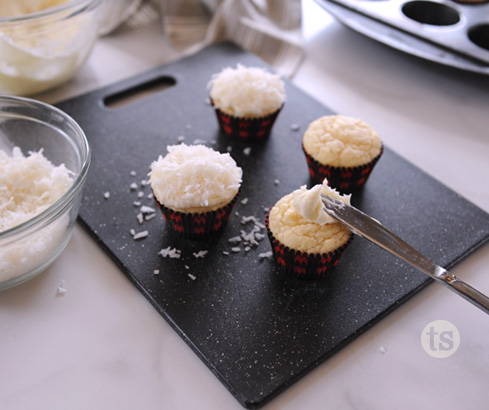 Then sprinkle each cupcake immediately with flaked coconut for a "snow" effect.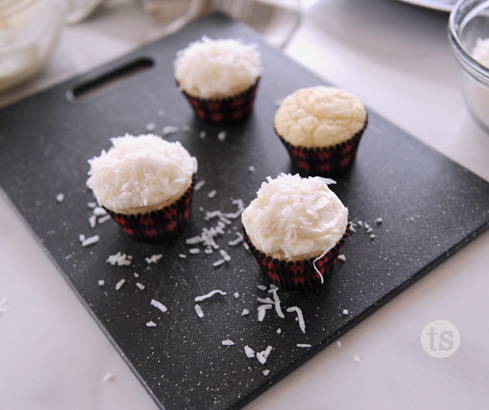 Step 3: Oh, Christmas Trees

Meanwhile, place 12 pretzel sticks about 2-3 inches apart on a large baking sheet lined with waxed or parchment paper. Melt 1 (8 oz.) package of green melting wafers in the microwave according to the directions on the label.
Carefully pour the melted candy into a storage bag; cut a small tip off the corner. Pipe a zig-zag "tree" shape onto a couple pretzel sticks, leaving about ½ inch at the bottom for a "trunk." Add decorator sprinkles immediately, since the candy sets quickly. Repeat until you have 12 trees.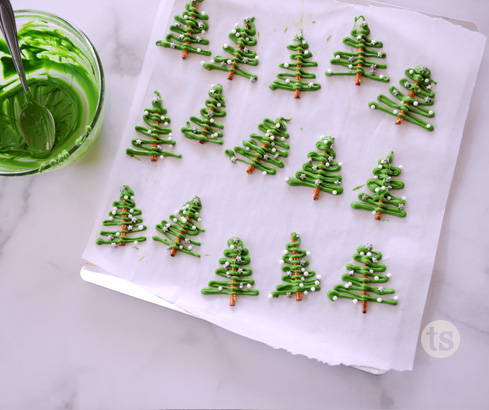 (Confession: I forgot to leave ½ inch at the bottom of my pretzel sticks, so I had some "boughs" break off when I inserted the trees into the cupcakes. Be sure to leave yourself a little room!)
Let cool or place in freezer 10 minutes to set. Gently insert a tree into the top of each cupcake. Ta-da!

Whether you're looking for a fun afternoon project with your kids or you're ready to start baking for the season, it's the perfect way to "spruce up" your holidays!
Enjoy!

– Jen

Tips & Hints

• Colored melting wafers are available in the cake decorating/candy aisle of most major retailers (such as Walmart) and craft stores (like Michael's). You can order them online via Amazon, too.
• Love coconut? Stir ½ tsp. coconut extract into your cupcake batter before baking.
• For a festive touch, consider using buffalo plaid, silver, or other holiday-colored cupcake liners.
• Store cupcakes in a large resealable container until you're ready to serve