During quarantine, some of us have taken the opportunity to take more long walks, make healthier choices, and get fit. Some of us … well, some of us haven't.
Me? I'm definitely one of the latter, living in leggings and a messy top-bun most days. To be fair though, many of us have been in survival mode, juggling homeschooling for our kids on top of everything else. (So if you've also needed a little extra cheese or wine to get through the last nine months, hi there! We should be friends.)
But it's officially a new year, and I think it's safe to say that we're all ready for a fresh start – and, just maybe, pants without a stretchy waistband.
Whether you want to say good-bye to a few pandemic pounds or you've made a resolution to eat more veggies this year, good news! You'll find a ton of light and delicious recipes with Tastefully Simple, perfect for a wide variety of healthy diets and lifestyles (e.g., keto, paleo, low-carb, you name it). You can even filter for dairy-free and grain-free recipes, too.
At our house, we're taking baby steps – swapping our weekly take-out with healthier, home-cooked alternatives. On the menu this week: egg roll in a bowl! Filled with crunchy slaw and a sweet drizzle of teriyaki, this hearty one-dish skillet is packed with protein and fresh veggies. Basically, you get all the Asian flavors – without the extra fat and carbs.
Wok This Way: How to Make It
Here's how to stir it up, complete with photos.
In a large skillet or wok over medium-high heat, crumble and cook 1 pound of ground pork until it's no longer pink; drain any liquid if needed.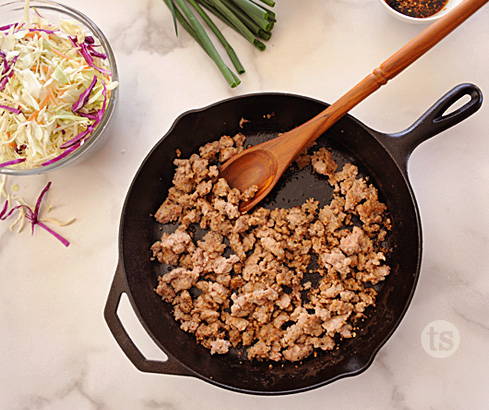 Toss in ½ cup shredded carrots and 1 thinly sliced red bell pepper, and give it a quick stir. Sauté about 3 minutes.
Step 2: Sauce
Meanwhile, in a small bowl, whisk together 1 tablespoon Garlic Garlic Seasoning, ¼ cup Honey Teriyaki Sauce, 1 tablespoon freshly grated ginger, 1 tablespoon sesame oil and 1 teaspoon rice vinegar.
[
(Psst: if you want to make it spicy, you can add a little sriracha or crushed red pepper flakes for a little kick, too!)
Step 3: Slaw
Stir the sauce into your skillet, along with 1 (16 oz.) package tri-color coleslaw mix. Cook, covered, 2-3 minutes or until the cabbage is slightly wilted and crisp-tender, stirring occasionally. Season generously with salt and pepper. Ta-da!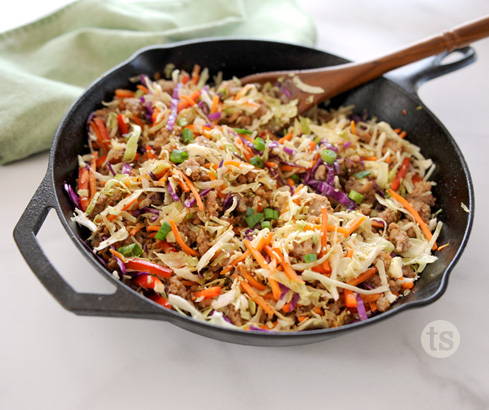 Dish up bowls for the whole family, and garnish them with sliced green onions or almonds for a little extra crunch.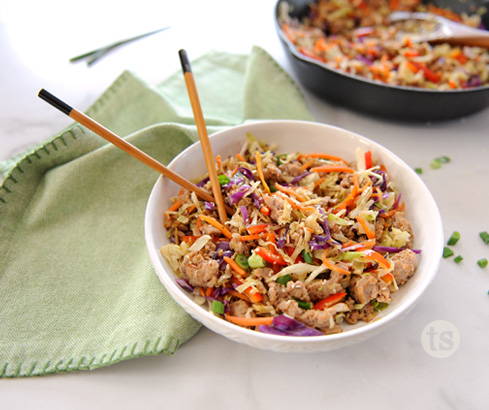 I know life has been heavy lately, friends. But here's to some lighter days – and even some lighter dinners – ahead!

– Jen

Tips & Hints
• If you prefer, substitute ground pork with ground turkey or chicken.
• If you're just cutting back on carbs rather than swearing them off completely, your can also garnish your egg roll in a bowl with crunchy wonton strips, typically available in the produce aisle. That's a great option for kids, too – and still waaaay lower in carbs and fat than a couple deep-fried rolls!
• Use any leftover filling for lettuce wraps.
• Serve with fresh pineapple wedges on the side