Love football? Or just love tuning into the Super Bowl for the commercials?
Whatever makes you cheer this weekend, one thing is certain: your snacks can score big. From saucy meatballs to slow-cooked wings, here are a few of our favorite winning recipes – perfect for game day!
13 Snacks for Super Sunday

1. Queso Chicken Nachos. Creamy queso. Juicy chunks of chicken. Crunchy garden veggies. So hearty and crispy, these oven-baked nachos are always a crowd-pleaser.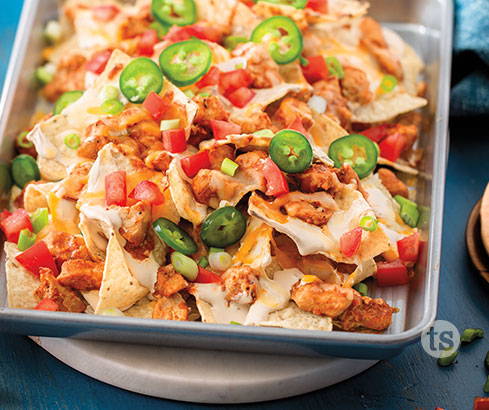 Plus, you can always personalize 'em with your favorite toppings. At our house, we like to do a 50/50 split – keeping one side simple for the kids and one side loaded with fresh fixings.
2. Slow-Cooked Smoky Bacon BBQ Wings. Two ingredients – that's it!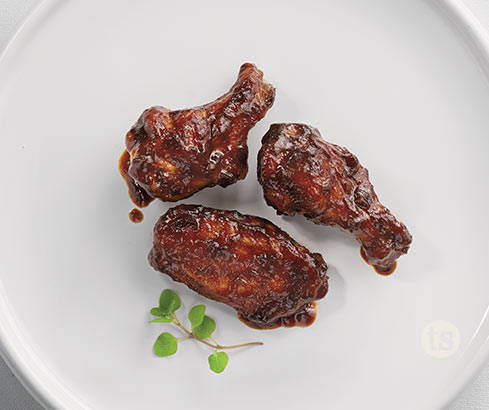 Let your slow cooker do the work, and within a few hours, you'll have tender lip-smacking wings slathered with smoky-sweet barbecue sauce. Bonus: since they are so easy to make, you can keep your focus on the game (or the halftime show) – not the oven.
3. Onion Onion Guacamole. Balance out a few of those heavy appetizers with fresh and flavorful guacamole, served with crunchy jicama sticks, bell pepper strips, baby carrots, and snow peas.
4. Easy Garlic Parmesan Pretzels. Love homemade snack mix? Stir up a batch of these buttery, garlic pretzels sprinkled with savory herbs and Parmesan cheese. They pair perfectly with ice-cold beer, too.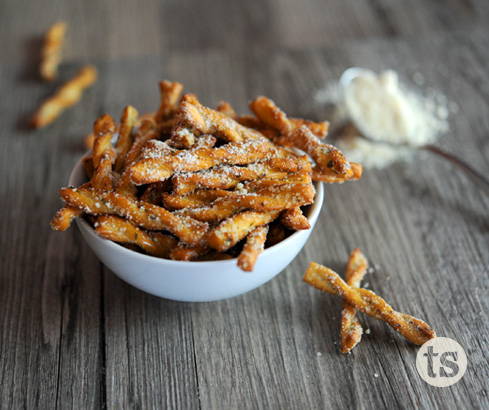 5. Bayou Chili Meatballs. Great for game day! Toss these sticky-sweet, smoldering meatballs in your crockpot, and let 'em cook low and slow all afternoon.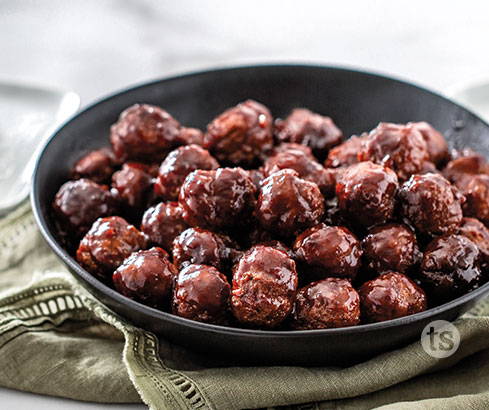 6. Touchdown Tiramisu Cheese Ball. For a snack on the sweeter side, shape this creamy chocolate cheese ball – swirled with cocoa, peanut butter, and chopped Snickers – into a fun football. Serve with fresh apple slices and honey-kissed grahams.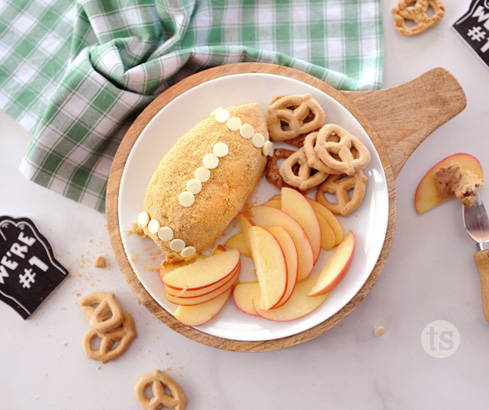 Tip: you can use white chocolate chips or decorator icing to create "laces" and "stripes" on top.
7. Loaded Baked Potato Bites. Like potato skins – in half the time!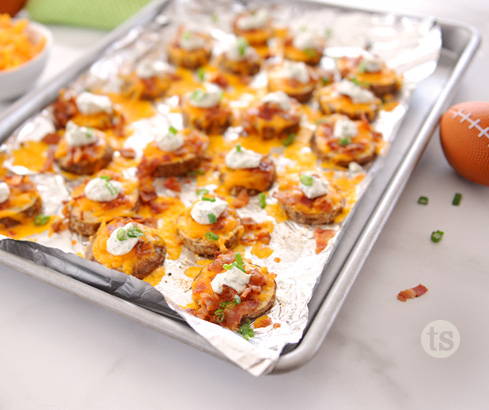 Perfect for passing around the table, these delicious apps are topped with melty Cheddar, salty-smoky bacon, and creamy little dollops of Spinach & Herb Dip.
8. Bayou Bourbon Smokies. Give little smokies a little extra kick with rich brown sugar bourbon sauce and a sprinkle of bacony goodness.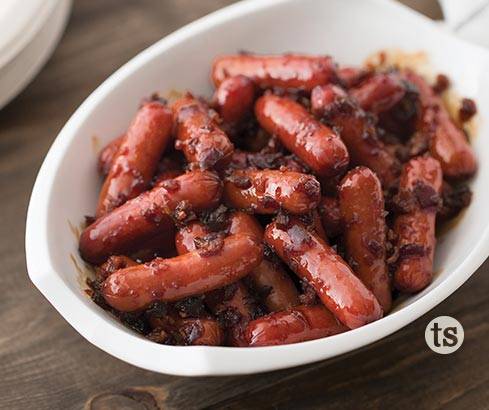 9. Mama's Pepperoni Pizza Dip. Bubbling with savory pizza sauce, mini pepperoni, and creamy garlic-mozzarella goodness, this baked dip will be your new family favorite.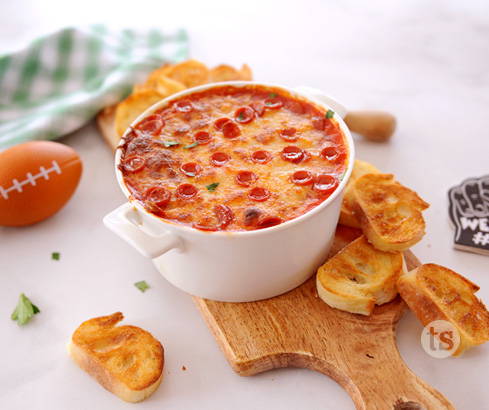 Seriously, it's just like pizza – in a gloriously gooey dip! Scoop it up with toasted baguette slices or pita chips.
10. Roasted Red Pepper Cauliflower Hummus. Looking for a lighter dip? Try this paleo-friendly hummus, packed with roasted red peppers, cashews, and garlic. So creamy and smooth, plus you can make it ahead of time.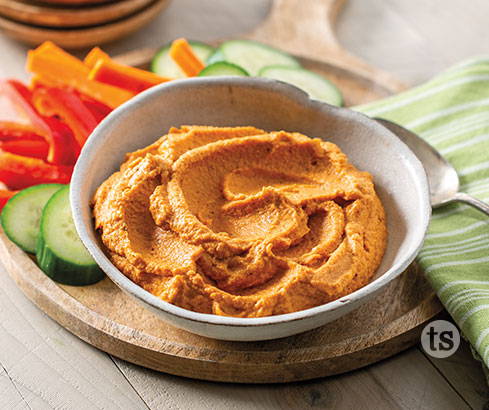 11. Buffalo Dill Bloody Mary. Is it a drink? Is it a snack? It's both! Perfect for Sunday afternoons, this easy recipe makes a killer Caesar (my personal fave) or Bloody Mary.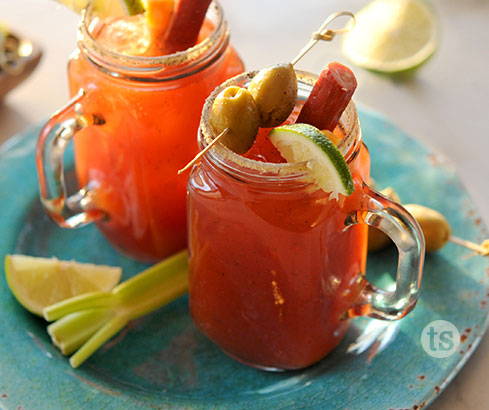 You can even set up a Build-Your-Own-Bloody-Mary station, complete with meat sticks, dill spears, olives, cheese cubes, bacon strips and skewers.
12. Fruit Jersey Cake. Want to show your team spirit with something sweet? Showcase the number of your favorite player with this jersey-shaped almond cake, topped with sliced fresh fruit.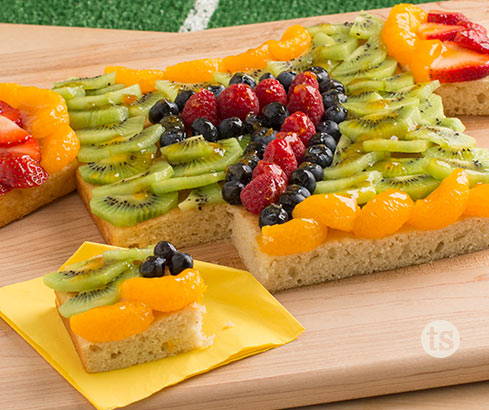 13. Game Day Cookies. And last but not least, these cute cut-out cookies do double-duty as a fun pre-game activity with the kiddos and a winning dessert that everybody will love.
Using a few bottles of cookie icing, decorate these buttery bites with your team colors, helmets, footballs, you name it.
I know our Super Bowl parties might be smaller and simpler this year, friends. But with snacks this good? Everybody wins!

– Jen