I love living in Minnesota. But as I'm writing this, it's a sunny winter morning and bone-chilling -13°F outside. (Yes, this is the time of year when we all ask ourselves, "Why do I live where the air hurts my face?") According to the weather forecast, we'll be facing sub-zero temperatures and wind chill advisories for the entire week.

The good news: it's the perfect excuse for staying in and curling up with a warm, cozy bowl of homemade soup.

Love the chicken gnocchi soup served at Italian restaurant chains like Olive Garden? It's surprisingly easy to stir up your own version at home! This week at our house, we made a kettle of this creamy goodness, simmering with tender chicken, pillowy potato gnocchi, and garden-fresh vegetables.

It's comforting. It's incredibly delicious. It's guaranteed to warm you down to your toes. And best of all, it's made with love in your very own kitchen.


Rustic Chicken Gnocchi Soup: How to Stir It Up
Here's how to make it tonight, complete with photos. You can also see the full recipe here > 

Step 1: Veg Out
Ready to get cooking?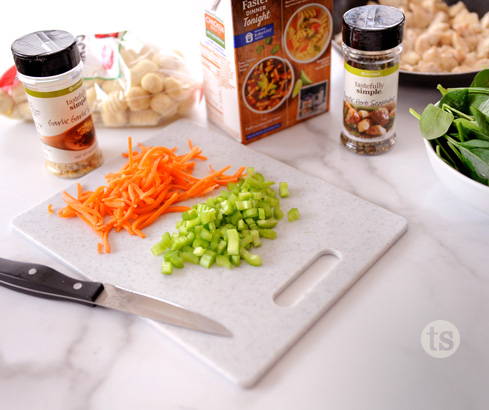 In a large saucepan or Dutch oven, melt 2 tablespoons butter over medium heat. Toss in ½ cup finely chopped celery, ½ cup shredded carrots and 2 teaspoons Garlic Garlic Seasoning. Sauté 3-5 minutes or until the veggies are slightly softened, giving it a quick stir now and then.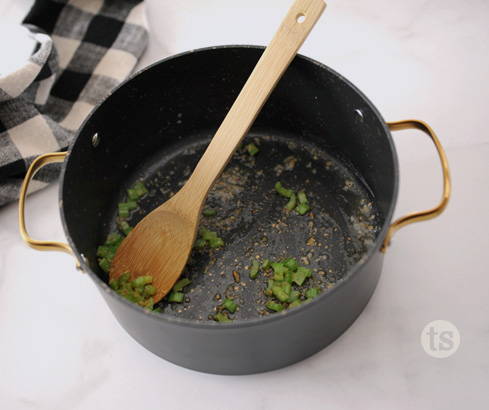 (Let's just pretend there are carrots in this photo, by the way. This distracted mama forgot them the first time.)

Step 2: Broth, Baby!
To create a roux, add 2 tablespoons flour to your veggies, stirring them for a minute until they are coated. Whisk in 2 cups half and half and 1 teaspoon Rustic Herb Seasoning.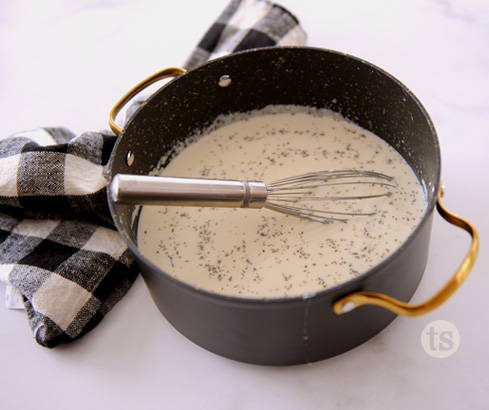 Let it simmer, stirring frequently, until thickened. Slowly pour in 4 cups chicken broth.

Step 3: Soup It Up  
Next, stir in 2 cups of cooked, chopped chicken breast, 1 (17.6 ounces) package refrigerated potato gnocchi and 1 cup fresh baby spinach.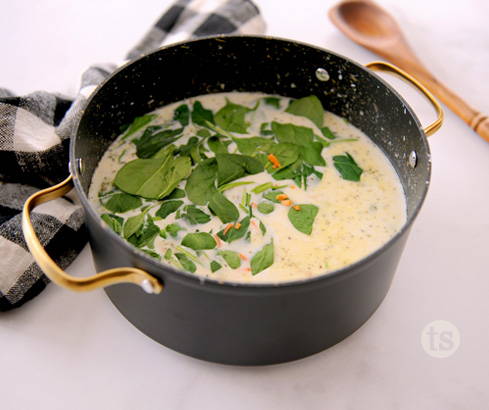 Simmer 5 additional minutes or until your gnocchi is warmed through and the soup is slightly thickened. Season with salt and pepper to taste.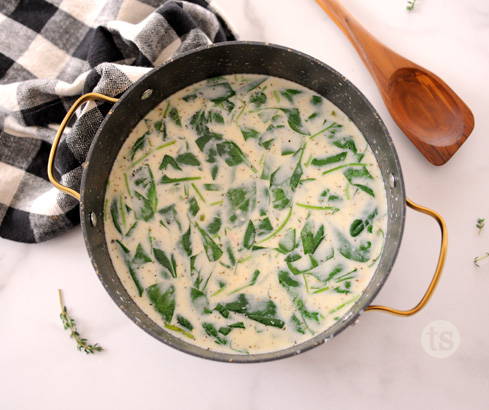 That's it! Go ahead and dish it up for your family.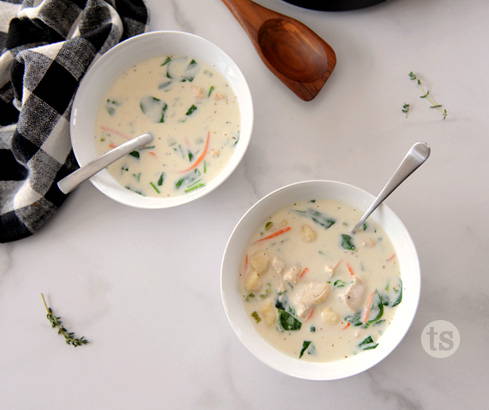 Made in 30 minutes. Made restaurant-style in your own kitchen. And above all, made with love.

Happy cooking, friends!
 
– Jen
Tips & Hints
Serve your soup with a tossed salad and buttery garlic breadsticks.
What if you can only find frozen gnocchi? No problem. Simply prepare it as directed on the package, and then toss it into your soup until it's heated through.
Feel free to use chopped rotisserie chicken or Magic Chicken. It's a great timesaver for busy weeknights!
If you're feeling extra indulgent, add ¼ cup heavy cream for an even richer, creamier broth.