Ready for a taste of adventure?
Tastefully Simple's NEW Spring-Summer catalog is filled with all kinds of global-inspired flavors. So even if you can't travel far this summer, don't worry! You can still give your tastebuds a little getaway.
First stop: Asian Garlic Dip Mix.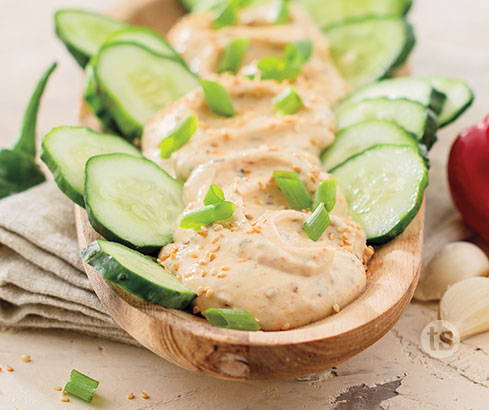 So fresh and creamy, this Asian-inspired dip is bursting with garlic, red bell pepper, gingery spices, and a subtle hint of brown sugar sweetness. Just add mayo and sour cream and serve with fresh veggies or chips.
But you know what? That's just for starters. From dips to dinners, here are nine more ways to mix it up:
Just the Ticket: 9 Ideas for Asian Garlic Dip Mix
1. Asian Pork Sliders. Did you know this bold Asian-inspired blend does double-duty as a dip mix AND a burger seasoning?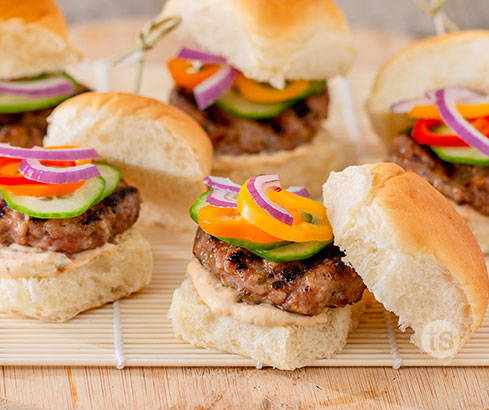 Try this quick weeknight recipe for juicy pork sliders, topped with crisp veggies on sweet Hawaiian rolls. They pack a ton of flavor – and they are ready from start to finish in only 25 minutes!
2. Delectable Dipping Sauce. Simply mix 1 packet Asian Garlic Dip Mix with 2/3 cup mayo and 1/3 cup milk for a zippy sauce for dipping and dunking. It's delish with egg rolls, chicken tenders or tempura shrimp.
3. Asian Chicken Pasta Salad. A new twist on a traditional favorite, this creamy pasta salad is bursting with garlicky zing, chopped chicken, and all kinds of crunchy garden-fresh veggies.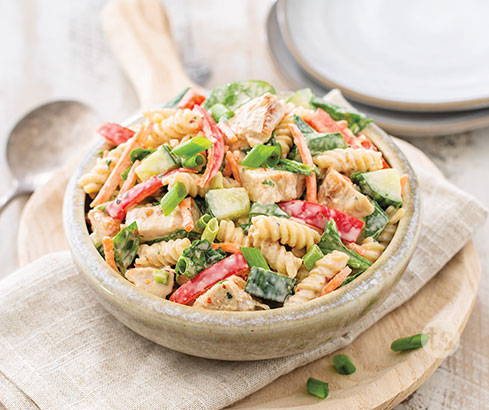 Perfect for picnics or dinners on the patio this summer!
4. Asian Garlic Cheese Ball. Grab your passport to flavor by combining 1 packet dip mix with 1 (8 ounce) package of softened cream cheese. Chill, and dig in with crackers while watching your next Netflix binge.
5. Asian Layered Chicken Dip. At our house this weekend, we stirred up this delicious layered dip: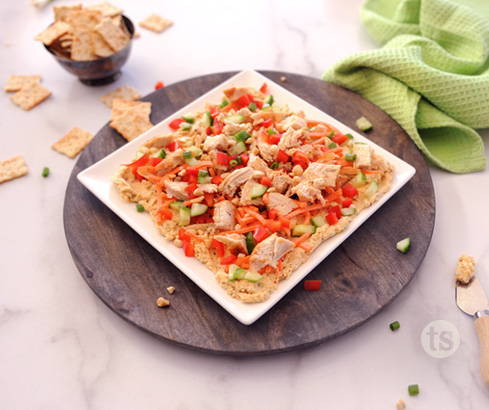 So fresh, colorful and crunchy, it's loaded with chunks of chicken, shredded carrots, diced cucumbers, sweet bell peppers and chopped peanuts – all piled high on a layer of creamy-spicy goodness. Serve it with hearty crackers (my pick: Townhouse Flatbread Crisps – Sea Salt & Olive Oil). SERIOUSLY. SO. GOOD.
6. Asian Garlic Meatloaf. Have an Instant Pot? Stir up this hearty home-style meatloaf, ready in half the time. (And if you don't own a pressure cooker, no worries. Let it cook low and slow for 6 hours in your slow cooker.)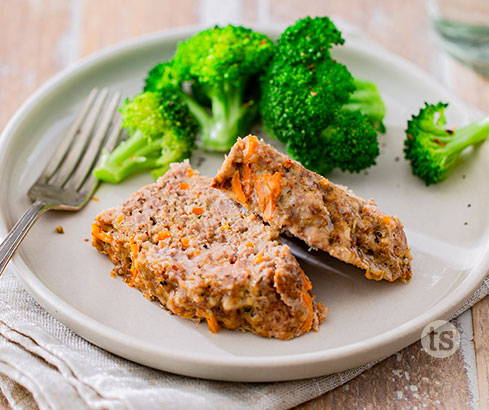 Serve with crisp-tender green beans or broccoli.
7. Spicy Salad Dressing. For a spicy-tangy vinaigrette, whisk together 1 packet Asian Garlic Dip Mix with ½ cup Avocado Oil and ½ cup red wine vinegar or apple cider vinegar. Drizzle over your favorite summer salads or slaws.
8. Asian Garlic Grilled Potatoes. Looking for something different for your side dishes? Toss together these simple seasoned potato wedges – perfect for pairing with grilled burgers, steaks, chicken breasts or pork tenderloin.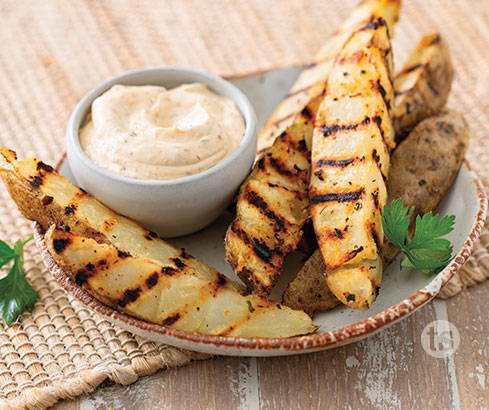 9. Báhn Mì Pork Sandwiches. Crunchy pickled veggies. Savory pork. Fresh-baked bread.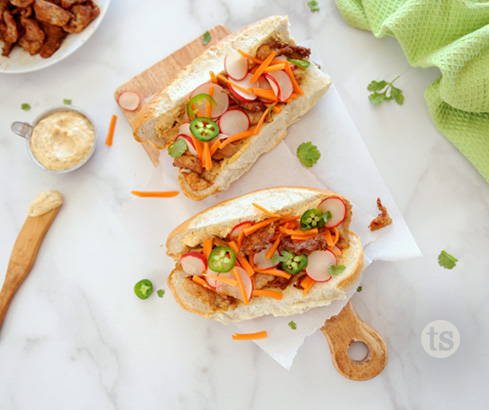 Love báhn mì? Last but not least, try this easy shortcut version of the classic Vietnamese-French sandwich. It makes a fresh, delicious dinner that the whole family will love.
Remember, friends … even if you can't travel as much this summer, you can still take your tastebuds on a trip!
Enjoy!
Jen