Cook one day. Eat five days.
In a nutshell, that's the whole idea behind Tastefully Simple's NEW Freezer to Oven 5-Meal Kit. You can make and freeze all the meals at once, and then bake them whenever you're ready.
Love meal prepping? Or struggle with it? Honestly, this is pretty new for me. Oh, I'll make a few workday lunches in advance sometimes, so it's easy to grab 'em and go. But I've never actually made a week's worth of dinners at once for my family. So … how did this experiment go?
Here's a closer look at all of the delicious meals in the kit, along with a few tips, tricks and takeaways!
Look Inside: Freezer to Oven 5-Meal Kit
First, I received the delivery on my doorstep. Yay!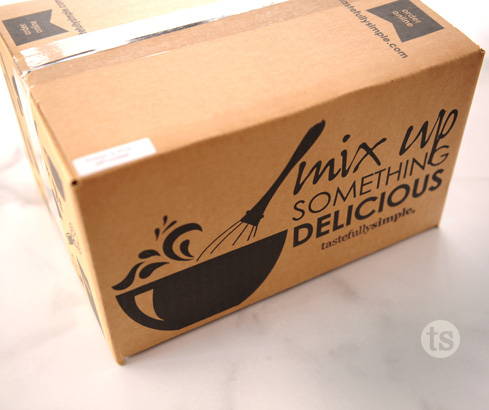 I opened the box to find all of these goodies inside …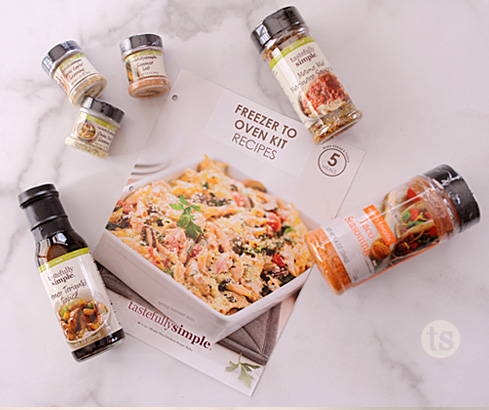 The kit includes:
• Honey Teriyaki Sauce
• Mama's Marinara Sauce Mix
• Mom's Favorite Taco Seasoning Value Size (it's huge!)
• Spiced! Sampler (aka, the cutest mini shakers of Garlic Garlic, Onion Onion and Seasoned Salt)
• Grocery list
• Recipe booklet
Every recipe serves 6, so depending on the size of your family, you'll probably have leftovers for lunch. (At my house, our family of four was actually able to get TWO meals out of almost every recipe, since we have younger kids.)
Ready for a closer look?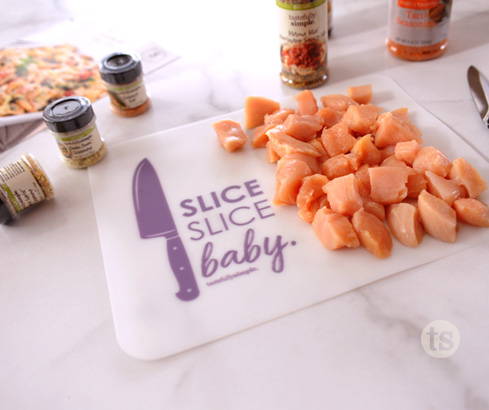 Here's what we made for the week …
Recipe #1: Classic Beef Enchiladas (KID FAVORITE]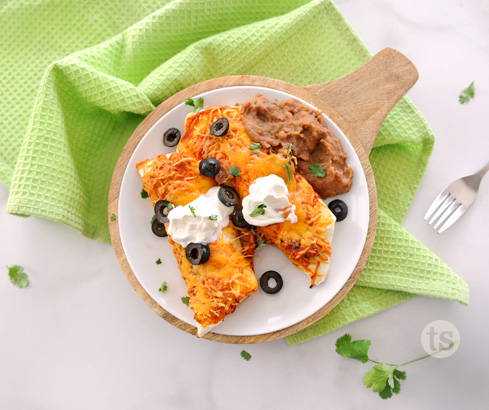 This was my kids' favorite meal of the kit. Easy. Cheesy. Beefy. These restaurant-style burritos freeze and bake beautifully. You can personalize them with your own fresh toppings, too (e.g., chopped avocado, diced tomatoes, shredded lettuce).
Jen's tips: Since this makes 12 burritos (whoa!), consider splitting the burritos among two 8 x 8 pans instead of one 9 x 13 if you have a smaller family. Bonus extra weeknight meal for the win, especially if you serve refried beans, salad or Spanish rice on the side.
Recipe #2: Mexican Chicken Rice Bake
Curious how to make it? Check out my very first demo video above! (I promise – I'll get better at this, but you'll get the gist.) If you love Tex-Mex or even jambalaya-type dishes, you'll love this one-dish bake loaded with black beans, peppers, chicken and Cheddar cheese.
Jen's tips: Pair this with a quick salad, corn muffins, or chips and salsa. If you have leftovers like we did, spoon it into tortillas – it's perfect for chicken burritos!
Recipe #3: Mama's Creamy Chicken Penne Bake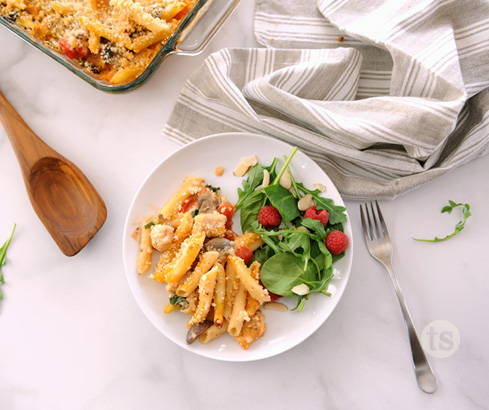 This hearty pasta bake is bubbling with chicken, penne, spinach, and bella mushrooms – all tossed together in rich Italian sauce. Best of all, it's topped with a buttery parmesan breadcrumb topping, so you get all kinds of texture in every creamy-crunchy bite.
Jen's tips: Serve with breadsticks and a side salad. Next time, we'll split this one among two 8 x 8 pans instead of using one 9 x 13 pan since it's such a generous recipe. Also, I know the topping is optional, but do NOT skip it. It's delish!
Recipe #4: Honey Teriyaki Chicken & Rice (HIS FAVORITE]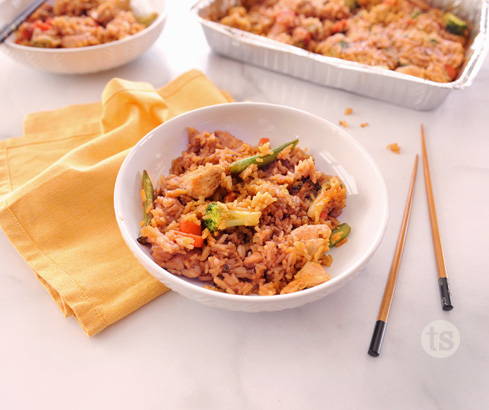 This one was my husband's favorite, and it was the fastest and easiest meal to make. Tossed in rich teriyaki sauce, this one-dish dinner is loaded with tender chicken, stir-fry veggies, and jasmine rice. Stirring in a frozen broccoli stir-fry blend is pretty genius … so easy!
Jen's tips: Serve with an Asian salad or air-fried egg rolls. Next time we make this, we'll add baby corn and sliced water chestnuts, too, for extra crunch.
Recipe #5: Mama Mia's Lasagna (HER FAVORITE)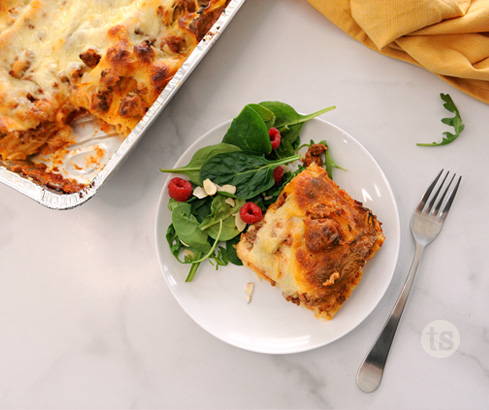 You can never go wrong with great lasagna! This was my personal favorite from the kit, and my kids were big fans, too. Layered with savory marinara, noodles, and cheesy goodness, this meaty well-balanced lasagna is one of those classics that you'll make again and again.
Jen's tips: Serve with a salad, garlic bread or cheesy biscuits.
I actually used a 9 x 13 pan (instead of 11 x 7 like listed in the recipe, since I didn't own that size) and the full box of oven-ready lasagna noodles. It still worked great, plus we had more leftovers. One note: next time I'll leave the foil on longer and only remove it for the last 10-15 minutes of baking. My cheese got too brown on the edges, but it was still delicious!
MORE TIPS & TAKEAWAYS
So what else did I learn in this process?
• Clean up as you go. Yes, making five meals in one afternoon will make a mess of your kitchen. (I'm a messy cook anyway, so my kitchen looked like a bomb had gone off.) Start that dishwasher early! Remember, you'll have fewer dishes the rest of the week, too.

• Write on your foil. Jane shared some great tips in her recent Facebook Live event, including what to write on your foil before covering and freezing each dish, such as:
– Recipe name
– Note to REMOVE plastic wrap beneath the foil
– Bake @ TEMP for TIME directions
So smart, right?
• If you hate washing dishes, invest in those disposable foil pans. They are typically only $1 or less each. (Not having to soak and wash a crusty baked-on lasagna pan? Priceless.) Plus, you won't have to worry about all of your bakeware being in the freezer if you need it in the middle of the week.
• Preheat the oven early. Remember, frozen meals require longer bake time. When you get home from work or whenever you're wrapping up the day, start preheating your oven early, toss in the frozen pan … and then sit back and enjoy the fact that your work is done!
What are some of YOUR tried-and-true tips for meal prepping? Or your favorite freezer-friendly meals? Tell us on Facebook or Instagram. We'd love to hear and share your ideas.
Happy meal prepping, everyone!
Jen