Staying at home for Easter this year? Or having a smaller celebration than usual? You can keep it simple – and make it special!
About a year ago before the pandemic hit, we had just moved to our little hobby farm. Suddenly, our kids had to adjust to living in the middle of nowhere, home schooling, and (worst of all) not being able to see their grandparents. But our new neighbors down the road did the nicest thing to help cheer up our kids: they hid Easter eggs filled with jelly beans all over our yard.
We'll never forget that little act of kindness, and this year we're looking forward to returning the favor.
My point: the simplest things can be the sweetest.
So even if you aren't hosting a big gathering this year, remember – you can still do something special! Make a delicious dessert for your family. Surprise a neighbor. Drop off a sweet treat for a friend.
And if you need a little Easter inspiration, try today's recipe … Mai Tai Orange Trifle!
Filled with tropical flavors, this creamy trifle is layered with fluffy orange cake, citrusy whipped cream, and sweet mandarin oranges – all garnished with crushed vanilla wafers. So easy and elegant, it will make a beautiful centerpiece for your Easter table. Most importantly, it's delicious!
Easy as 1-2-3
Here's how to make it, complete with step-by-step photos. You can also see the full recipe here »
Step 1: Cube Your Cake
Prepare Orange Dreamsicle™ Bar Mix as directed on the package using 1 (8 ounce) package cream cheese and ½ cup 2% milk. Cool completely. Cut into cubes.


Step 2: Whip Your Filling
In a medium bowl, combine 1 packet Mai Tai Cheese Ball Mix with 2 cups heavy whipping cream. Using an electric mixer, beat on HIGH until stiff peaks form.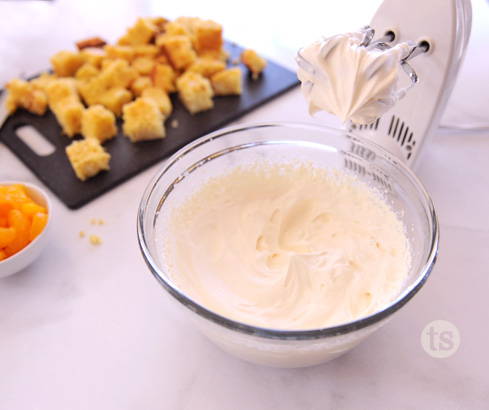 Your filling will be beautifully whipped and fluffy!
Step 3: Let's Layer
Next, grab 1 (15 ounce) can mandarin oranges; drain.
In a large glass bowl or individual trifle bowls, layer 1/3 of your cake cubes, 1/3 of the filling mixture and 1/3 of the mandarin oranges like this: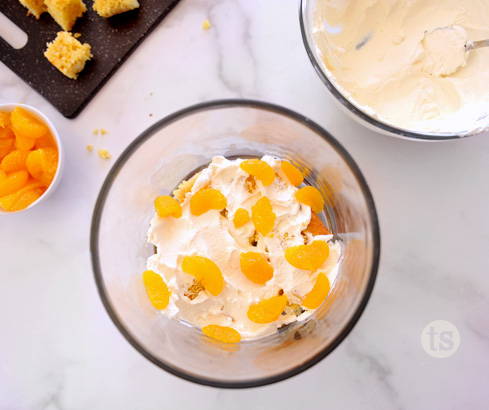 Repeat those layers twice. (If you're using a really large trifle bowl and need more filling, you can add extra dollops of Cool Whip on the top, too!) Garnish with a few crushed vanilla wafer cookies, graham cracker crumbs, or flaked coconut. Ta-da!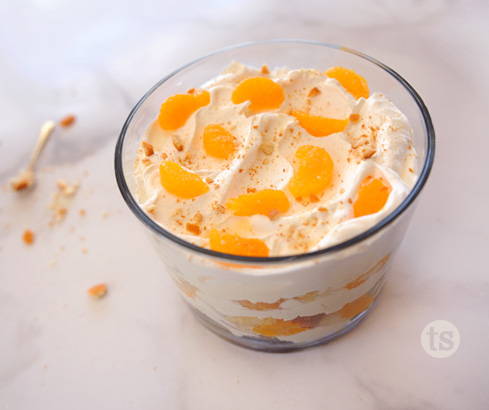 For Easter, you can also embellish it a little more if you'd like. Decorate the top with marshmallow chicks, pastel candies or other cute decorations. I guarantee: every-bunny will love it.
Have a happy Easter, peeps!

– Jen
P.S. You can find all kinds of other Easter recipes on Tastefully Simple's website, too. Try Springtime Snickerdoodles and Nana's Carrot Carrot Cupcakes!
Tips & Hints
• You can use wine glasses or cute little clear glass cups to make individual mini trifles.
• For an extra pop of fresh tropical flavor, drain and stir a can of crushed pineapple into your whipped filling.