What exactly is Meatless Monday?
I know it's fairly self-explanatory, but if you're new to the idea, it's a movement dedicated to eating plant-based meals one day per week. (Fun fact: it started back in 2003, and today the initiative has spread to more than 40 countries!) The ultimate goal: a healthier YOU and a healthier planet.
Of course, we all know it's important to eat our fruits and veggies. But what if you're not quite sure how to turn those sides and salads into the main event? Here are 11 delicious dinners, perfect for a meatless Monday!
11 Must-Have Recipes for Meatless Mondays
1. Easy Pad Thai. Who needs take-out? Loaded with crisp veggies, noodles and a peanutty sauce, this quick Asian-inspired dish is a weeknight favorite at our house.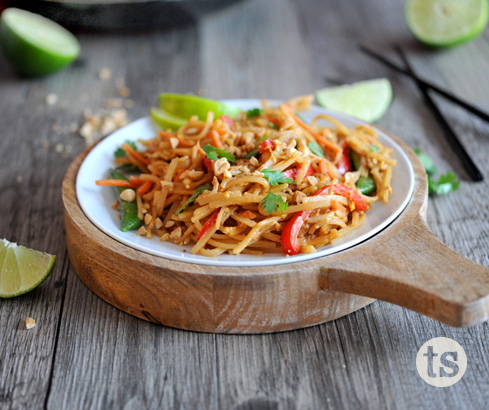 You can toss in cubes of extra-firm tofu for additional protein, too. It's so good!
2. BBQ Jackfruit Pulled "Pork" Sandwiches. Did you know that you can substitute jackfruit in place of pork for vegetarian BBQ sandwiches and wraps? It seriously looks like the real deal – perfectly tender when simmered with smoky lip-smacking BBQ sauce.
Just drain and rinse 2 (20 ounce) cans jackfruit in water, and simmer 20-25 minutes with 1 cup Smoky Bacon BBQ Sauce and ½ cup water. Spoon onto buns, and top with fresh slaw, pickled veggies or mixed greens.
Tip: you can typically find canned jackfruit in the Asian or organic foods aisle of your local supermarket or via retailers like Trader Joe's, Whole Foods and Amazon.
3. Cha Cha! Fish Tacos. For some meat lovers, Meatless Monday means swapping out red meat with sustainably sourced fish and seafood.
So crunchy and colorful, these flaky fish tacos feature perfectly seasoned tilapia, fresh slaw, and crumbled Cotija cheese. Seriously, this recipe will become one of your new summer favorites. It's perfect for Lent, too!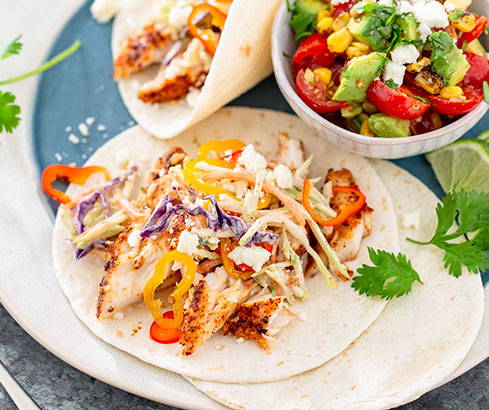 Serve your tacos with chips and salsa, fresh fruit, or Cha Cha! Tomato, Corn & Avocado Salad.
4. Creamy Roasted Tomato Pasta. It's like the famous TikTok pasta – with a TS twist! Tossed with blistered cherry tomatoes, roasted garlic and creamy-herby cheese, this one-skillet pasta is filled with garden-fresh flavors.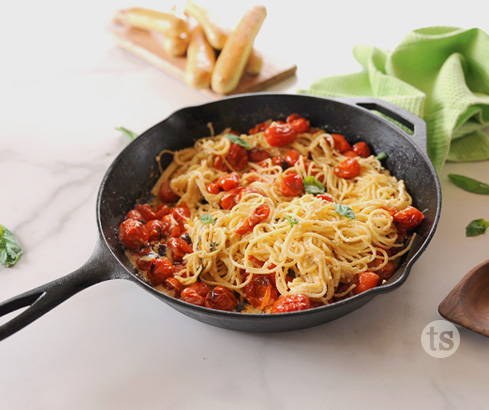 Feel free to use linguine, farfalle or whatever pasta you'd like. You won't even miss the meat!
5. Balsamic Roasted Veggie Salad. Love your spiralizer? Make this medley of roasted tomatoes, mushrooms and zoodles drizzled with sweet-tangy balsamic.
Tip: try a little crumbled goat cheese or blue cheese on top!
6. Chipotle Citrus Glazed Salmon. Brushed with a citrusy glaze, this smoky-sweet salmon is ready from start to finish in only 30 minutes. (Heart-healthy salmon is rich in protein, vitamins, and omega 3-fatty acids, too – making it a great alternative to red meat.)
Pair it with grilled asparagus or roasted baby red potatoes.
7. Quinoa Veggie Burgers. "You'll want to eat vegetarian all the time!" That's one of the rave reviews for these wholesome and delicious veggie burgers, made with nutty red quinoa, mushrooms and pecans.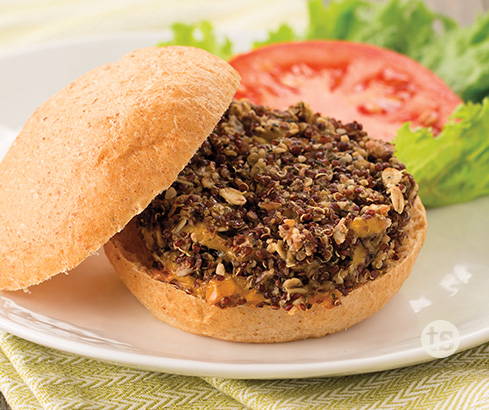 Even picky kiddos love 'em!
8. Mediterranean Pasta. Bursting with bright artichokes, tomatoes, Kalamata olives and salty feta crumbles, this hearty pasta brings together all kinds of fresh Greek flavors. Plus, it's ready in only 30 minutes – making it perfect for busy weeknights.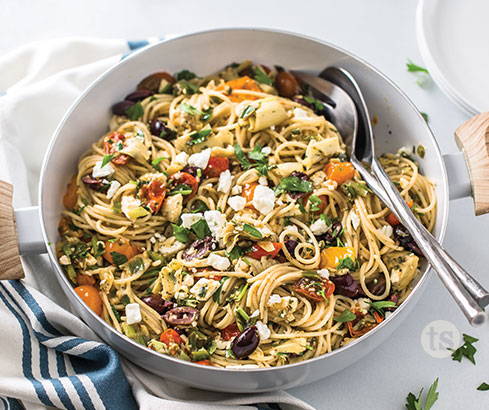 9. Margherita Flatbread Pizza. A new twist on an Italian classic!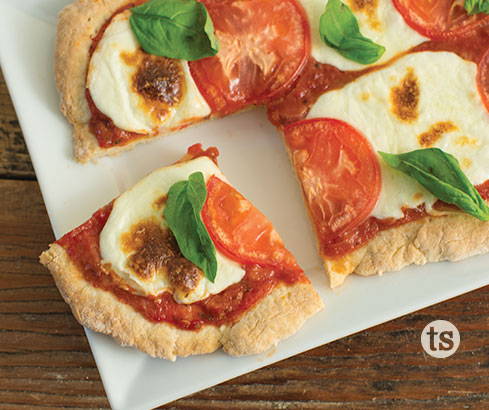 Topped with Roma tomatoes, fresh mozzarella, and sweet basil, the secret to this delicious pizza is the crispy-chewy homemade crust. Psst: it's actually made with our best-selling beer bread batter!
10. Roasted Veggie Penne. Filled with oven-roasted flavors, this pasta skillet is tossed with whole wheat penne, sweet balsamic, and garden-fresh veggies like eggplant, zucchini, tomatoes and peppers. Add a side of breadsticks, and dinner is done!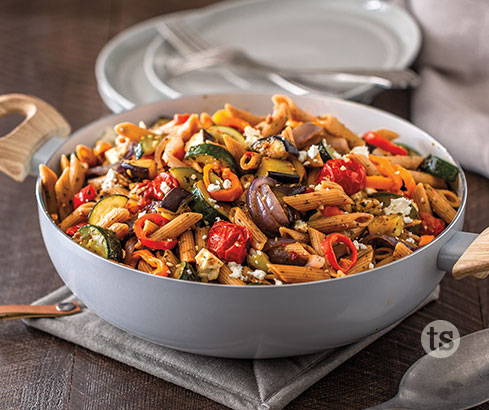 11. Balsamic & Basil Grilled Cheese Sandwich. So simple. So comforting. So delicious. This adult version of grilled cheese is layered with fresh pesto, juicy tomatoes and melted provolone. Serve with bowls of soup for a deli-style dinner right at home.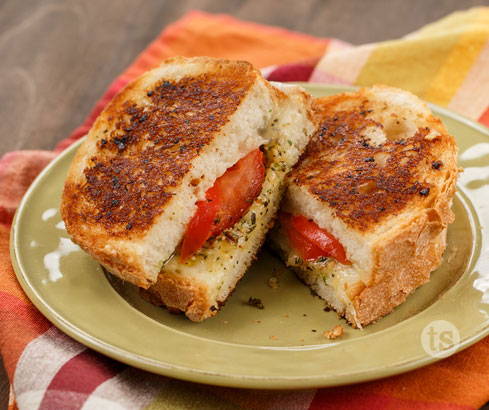 Here's to cooking with a little less meat … and lots of fresh and delicious flavors!
– Jen