I've been a grown-up for quite awhile now, and have gradually accumulated most of the tools and toys that adults tend to have cluttering up their kitchen cabinets. One striking omission from mine was a waffle iron.
So when I got a hankering for a waffle recently, I decided to strike while the iron was hot (see what I did there?) and hastily ordered one online. Too hastily, perhaps, as the device I received produces not the salad plate-sized waffles I'm used to, but rather a petite li'l 3.5-inch baby. A wafflet, if you will.
Still, having purchased the thing, I figured I'd "batter" put it to use – and quickly discovered a great advantage to the mini-iron: the diminutive waffles I produces are both cute as a button AND allow you to eat LOTS of them. A stack of six regular waffles suggests gluttony. Tucking in to a wee tower of six itty-bitties feels positively dainty.
Another great benefit of all waffle irons is that you turn practically anything into a "waffle." I recently saw someone on TV make a waffle out of those fat, frosting-covered Valentine's Day cookies. I don't know why you would, but you can.
With that in mind, I turned to two of my favorite Tastefully Simple baking mixes for inspiration. At the risk of seeming eggo-centric, I think they turned out pretty well:
Orange Dreamsicle Mini Waffles. I love me some citrus in the morning. These sunny little sweethearts are made with Orange Dreamsicle™ Bar Mix all battered-up with cream cheese, eggs, milk and a little oil. I serve them with a simple orange syrup (you can find a recipe here) and fresh fruit.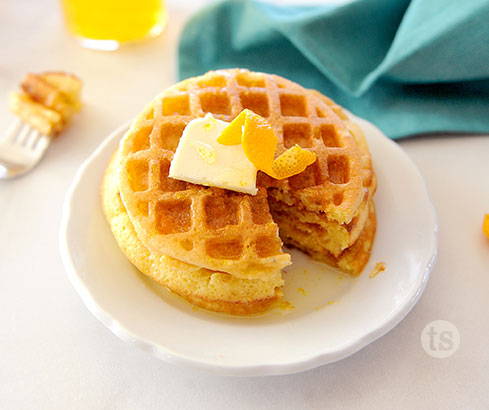 Classy Little Choco-Tacos. Not really breakfast fare, but these dessert tacos would make a cute and yummy treat at a summer gathering or anytime. The Classy Chocolate Pound Cake "shells" are made by draping the mini waffle over a rolling pin or down hot off the grill and allow it to cool. Fill the shell with a scoop of ice cream and top with crushed nuts, sprinkles, ice cream syrup or whatever you like.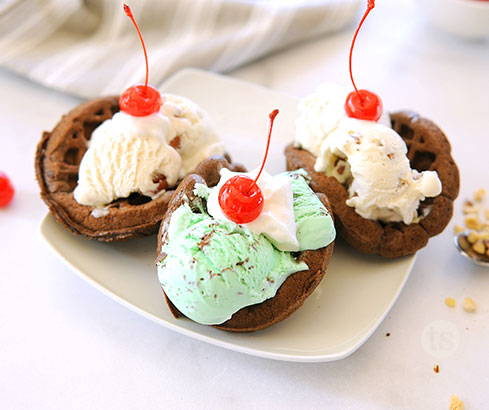 So there you have it: mini waffles for breakfast or dessert! (You can use a regular sized waffle maker with these recipes, too.) What's your favorite way to waffle? If you're looking for even more ideas, try these TS-tested recipes: