Twice a year, Tastefully Simple introduces new meal kits. This season I was especially excited to try the new Grilling 5-Meal Kit. Grilling is one of my favorite things about summer. I love the smell, the sizzling sounds, and of course the flavors of grilled meals. I also really like the minimal kitchen cleanup that goes along with grilling.
This kit did not disappoint. The recipes were so easy, and I was really proud to serve these meals to my family. I want to share two of the five recipes from this kit.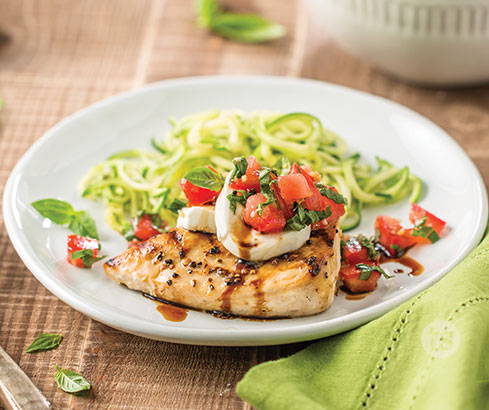 My favorite recipe from the kit was the Bruschetta Grilled Chicken. This meal was ready in about 30 minutes, start to finish. The Ultimate Steak™ Seasoning, used to season the chicken before grilling, gave it a wonderfully savory peppery flavor. The grilled chicken is topped with mozzarella cheese and a mouth-watering mixture of fresh basil, tomatoes and seasonings from the kit. I have to admit, I forgot to buy the fresh mozzarella at the grocery store and was thankful that I had shredded mozzarella in the fridge to use instead. We liked how it melted on the chicken, but next time I will remember to buy the fresh mozzarella.
The recipe suggests serving the chicken with zoodles, which I made for my husband and myself. My 11-year-old son isn't a fan of zucchini, so I made him some noodles that I seasoned with butter and a bit of Garlic Garlic™ Seasoning. It was a winner, and we will definitely be enjoying this dinner several more times this summer.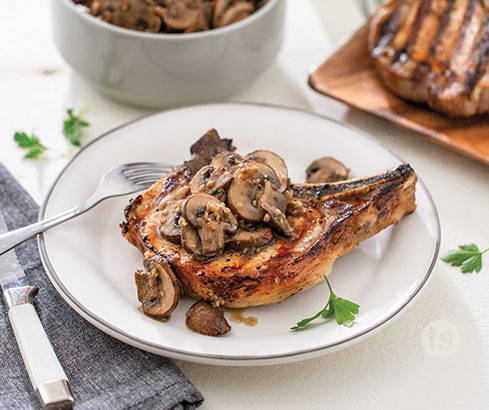 Another hit from this kit was the Ultimate Grilled Pork Chops. Before grilling, I brushed the chops with Avocado Oil as directed and seasoned liberally with Ultimate Steak Seasoning. The Avocado Oil helped the seasoning stick to the chops and really helped prevent the meat from drying out as it grilled. The flavor was amazing and reminded me just how much I like Ultimate Steak Seasoning.
Generally, whenever I make steaks or chops, I sauté mushrooms and onions in a pan on the stove. This recipe includes instructions for creating a small foil packet to cook mushrooms on the grill. Who knew something so simple could be so mind blowing! I loved that the mushrooms were cooked on the grill and I didn't have to dirty any pans in the process. They ended up tender and juicy and were a great topper for these delicious chops. I served these with a simple side salad and some dinner rolls. This meal will also be enjoyed again this summer.
As a side note, all of Tastefully Simple's meal kits come with a handy recipe booklet that includes a grocery list, recipes and even wine pairings, and really makes meal planning fun. The ideas are right there and you just have to decide which one you are going to make tonight. Check out the recipe booklet for the Grilling 5-Meal Kit here. Which recipe would you make first?
Enjoy!
Laura