Basking in the warm sunshine. Dipping your toes in the cool water. Roasting s'mores over a crackling campfire.
I think it's safe to say that we all have our favorite things about summertime. But whether you love picnics in the park, camping out, or kicking back in the backyard with a couple friends, there's no doubt about it: it's the perfect time to take it outside.
So how do you make the most of this warmer weather? Here are a few cool tips for your next picnic or outdoor party!
10 Tips for Picnics & Patio Parties
1. Use insulated tumblers or glass jars for drinkware. Have any Yeti-style insulated tumblers? Now's the time to put them to good use.
Otherwise, mason jars work beautifully for iced tea and lemonade, since the heavy bottoms ensure they won't tip over in the breeze. Plus, the resealable lids will help keep out those pesky bugs while you're enjoying the great outdoors. Jars work well for packing individual fruit salads, trifle-style desserts or green salads, too.
2. Remember – safety first! According to the USDA, cold foods should be kept at 40°F or colder. The safe temperature for hot foods is 140°F or above. As a good rule of thumb, discard any food left out at room temperature for longer than two hours, too.  
3. Chill out with frozen water bottles. In addition to using refreezable ice packs, freeze a few water bottles and place them in your cooler or insulated picnic carrier to help keep food cold. Bonus: as they thaw, you'll have plenty of chilled water on hand throughout the day!
4. Pack in reverse order. For picnics and camping, put the foods you'll want first on top of your cooler or carrier. It makes it easier to keep everything cold, since you'll be opening the lid less often.
5. Keep it simple with sandwiches. Not sure what to make? Try these quick and delicious sandwiches, layered with oven-roasted turkey, crisp garden-fresh veggies and a dollop of garlicky dip.
Asian Garlic Turkey Sandwiches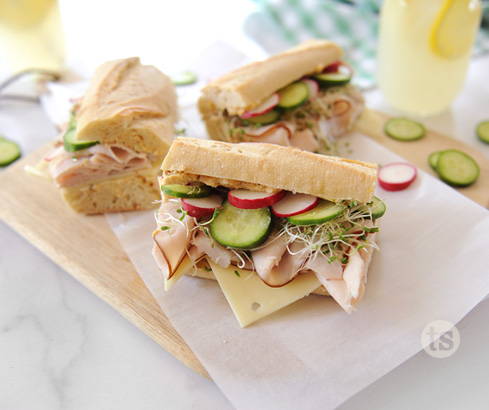 Tip: choose a hearty or crusty bread that's less likely to get squished. You can wrap sandwiches in parchment or waxed paper to help avoid sogginess, too. 
6. Wrap it up. Wraps are also perfectly portable and compact, making them great for picnics and patio lunches. Super easy, fresh and delicious! Here are a couple of our faves: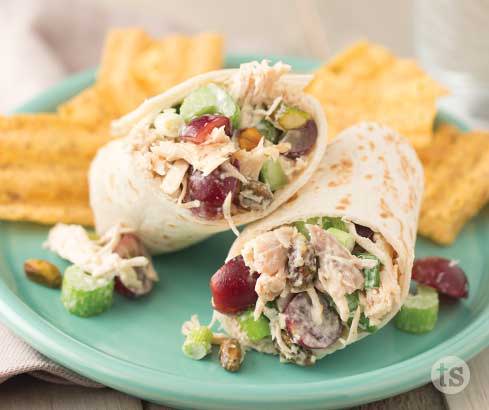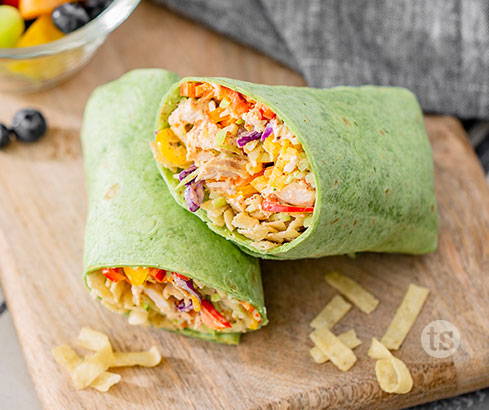 7. Bring fresh fruits and veggies for snacking. Crunchy veggies and fruits make the perfect snack on warm weather days, and they travel nicely, too. My personal picnic favorites: apples, red grapes and baby carrots. They pair well with virtually anything.
8. Put the "cute" in charcuterie. Don't feel like cooking at all? Keep it sweet and simple by grabbing a blanket and a bottle of wine, along with some sliced salami, soft cheeses (e.g., Brie and goat cheese), hard cheeses (e.g., Cheddar and Gruyere), crackers and pickles.
Add a couple sweet-savory sauces for dipping, like Sweet Pepper Jalapeño Jam and hot honey. You'll have a picnic-perfect date!
9. Don't forget dessert. If you aren't sure which summertime sweets to pack in your basket, try one of these pretty picnic favorites!
Nana's Cinnamon Oatmeal Bars: Filled with wholesome oats, buttery brown sugar and cinnamon chips, these hearty bars will be a hit with all ages. (These are delicious with butterscotch chips, too!)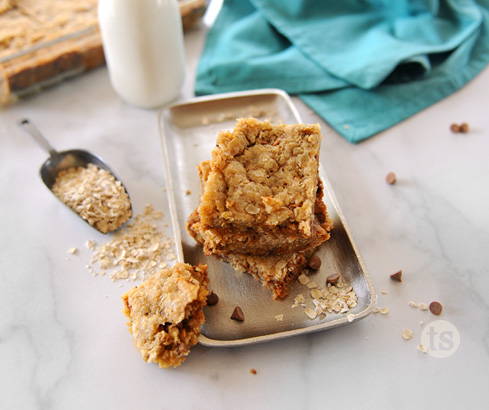 Nana's Strawberry Rhubarb Cake: Topped with sweet-tart strawberries and rhubarb, this cinnamon-streusel cake is so pretty and so perfect for summertime.
10. Clean up nicely. And last but not least, don't forget about clean-up duty. Bring a trash bag or two. Oh, and if you're unsure if you'll have access to running water, remember – wet wipes can be a lifesaver.  
Now go on and get packing, my friends.
Here's to food, friends and sunshine!
– Jen