Hosting a backyard BBQ for the 4th of July? Or need a delicious dish to pass for a family picnic or potluck?

Bring on the red, white and blue! It's easy to dazzle your friends and family with one of these 11 perfectly patriotic recipes, fit for any star-spangled celebration.

11 Patriotic Picks for Picnics & Potlucks
1. Red, White & Blue Brownies. Simply stir ½ cup red, white and blue M&M® candies into Butterscotch Brownie Mix batter before baking.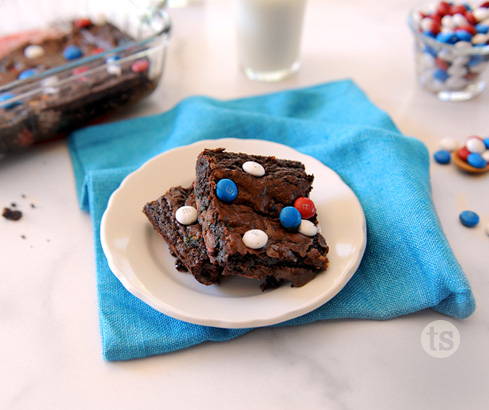 You can also sprinkle a few extra candies onto the hot brownies immediately after removing them from the oven for an extra pop of patriotic color. My kids love them with ice-cold glasses of milk!

2. Fruit Salsa with Cinnamon Chips. So pretty and patriotic, this sweet salsa is brimming with juicy strawberries, ripe blueberries and diced apple.




Perfect for dunking and dipping, the crispy cinnamon-sugar tortilla chips are warm and fresh from your oven in only 10 minutes, too.

3. Red, White & Blue Cupcakes. For a cute and colorful dessert, try this five-star recipe for bakery-style cupcakes, topped with creamy white frosting, blue sprinkles and fresh strawberries dipped in vanilla almond bark.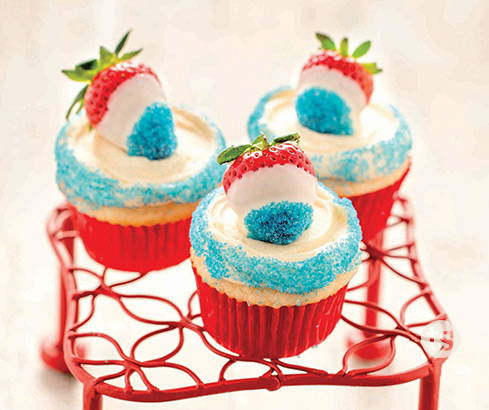 4. Patriotic Berry Pops. Keep your cool on the hottest days with these lusciously creamy popsicles filled with fresh summer berries and Greek yogurt.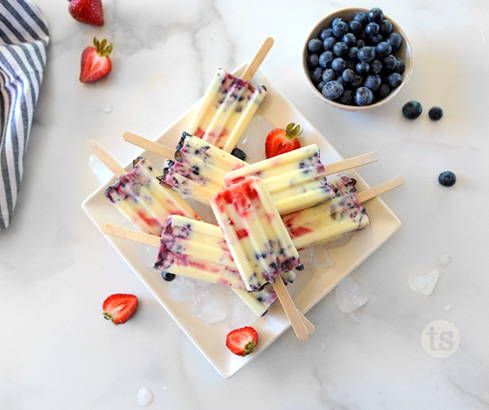 If you're a cheesecake lover, fold a couple crushed graham crackers into the filling before freezing your popsicles, too. It's so good!

5. Watermelon & Blackberry Bites. Serve these easy all-star apps, stacked with fresh blackberries, cubed white Cheddar, and watermelon stars – all drizzled with creamy poppyseed dressing.




These bite-sized skewers burst with fresh flavor, plus you can build and toss them in the fridge the night before.

6. Star-Spangled Flag Dip. Make a party favorite with a patriotic twist! This creamy layered dip is loaded with chunks of chicken, shredded cheese, and sweet bell peppers and tomatoes.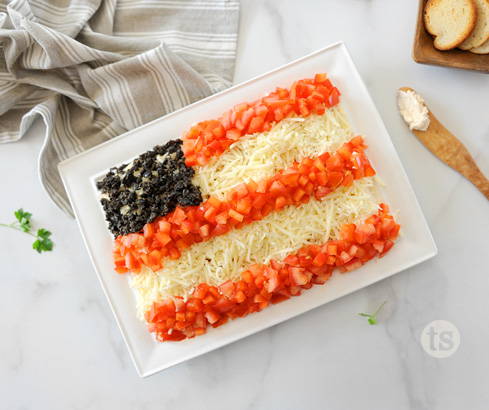 Serve with hearty crackers and tortilla chips.

7. Absolutely Almond Mai Tai Fruit Pizza. Feeding a crowd? So fresh and fun, fruit pizza is always a hit at summer picnics and potlucks.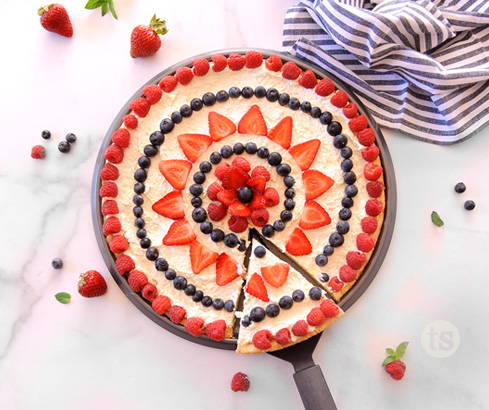 This weekend at our house, we made this deliciously light and luscious version, topped with fresh raspberries, blueberries and strawberries. You can make a simple pattern with fruit on top like I did or just freestyle it!

8. Red, White & Blue Blended Cocktails. For a grown-up gathering, say cheers with these red, white and blue cocktails, spiked with frosty raspberry, sweet-tart citrus and a kick of vodka and blue curacao.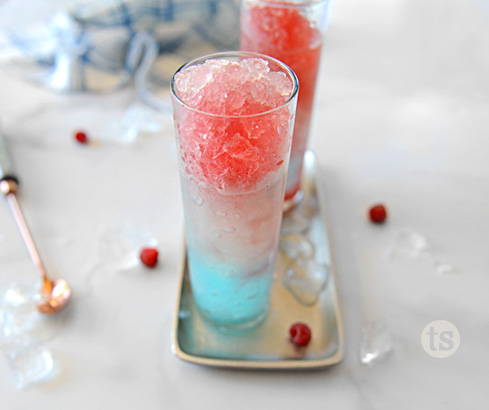 Tip: The red, white and blue slushes may be stored separately in your freezer and assembled right before serving. Just scrape 'em with a fork, and then scoop into glasses when you're ready to serve.

9. Lightened Almond Pound Cake Trifle. Looking for a dessert on the lighter side? With tender cubed cake, sugar-free pudding and fresh berries, this one-bowl dessert couldn't be easier. And it's always a crowd favorite!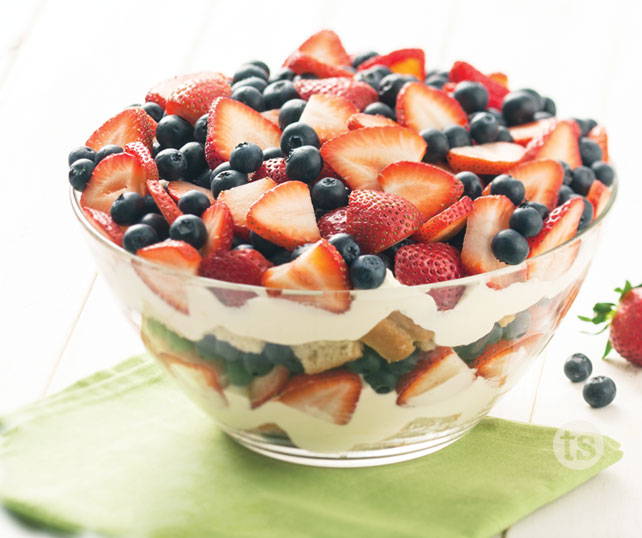 10. Star Cake Pops. If you're the crafty type, make these adorable cake pops, complete with swirls of red and blue inside. Super kid-friendly and super delicious!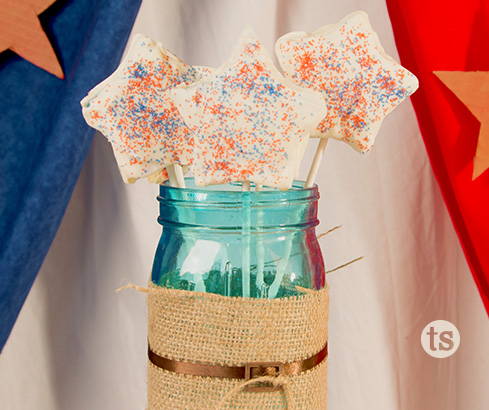 11. Flag-Inspired Charcuterie. Prefer something a little more savory? Arrange a meat-and-cheese plate in the style of the American flag as a self-serve appetizer. It's really easy!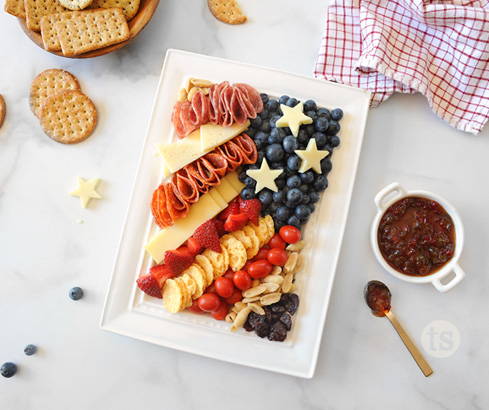 How to make it: Place fresh blueberries in the corner, and cut out a few cheese stars using a small cookie cutter. Then alternate rows of red (e.g., salami, pepperoni, grape tomatoes and bell peppers) and light-colored ingredients, such as Dill Pickle Peanuts, crackers, and cheeses like Havarti, Brie and white Cheddar.

Go horizontal with your rows of red and white, OR try a fun diagonal like I did (bonus: then you don't have to worry about it being perfectly even or straight)! I highly recommend serving your charcuterie platter with sides of Sweet Pepper Jalapeno Jam and/or Bacon Pepper Jam for dipping, too.

So fresh. So festive. So fun. With all of these pretty and perfectly patriotic ideas, you just might create a few fireworks of your own.

Have a safe and happy 4th, everybody!
– Jen