Love charcuterie boards? Creating beautiful platters at home has become such a big trend over the past year – and it goes way beyond traditional cured meats and cheeses.
Hot cocoa boards. Bagel boards. And, of course, breakfast and brunch boards!
While they aren't exactly true "charcuterie," they are really delicious and really fun. The best part? You can personalize them with all of your favorite foods. Plus, they are wonderful for small gatherings since everyone can help themselves to a variety of different tastes, textures and toppings.
How to Create Your Breakfast Board
Ready to get started? Here's how to put your own together – with a Tastefully Simple twist!
1. Assemble Your Supplies.
You'll need a large wooden cutting board, pizza paddle or serving tray to assemble your breakfast charcuterie-style board. Be sure to grab a variety of small dishes for butter, syrup, toppings and other dippers, too.
2. Pick Your Protein.
Crispy bacon is always a classic favorite, but if you're hosting a special brunch, consider making it extra special with Candied Spice Bacon – smoky, salty-sweet and sprinkled with black pepper and brown sugar.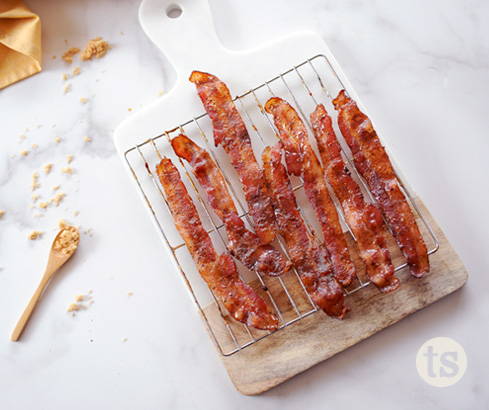 Sausage links, sliced hard-boiled eggs and smoked salmon would be delicious protein options, too.
3. Prep Your Pancakes & Waffles.
Fluffy pancakes and crispy waffles are the real stars of any breakfast board. Dust them with a little sprinkle of powdered sugar for a professional finishing touch. My personal favorites: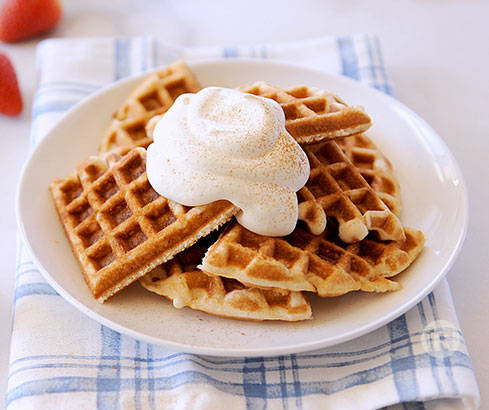 Cinnamon Muffin Melt Waffles
Lightly spiced with cinnamon, these sweet waffles will be a hit with all ages. Perfect with maple syrup or whipped cream!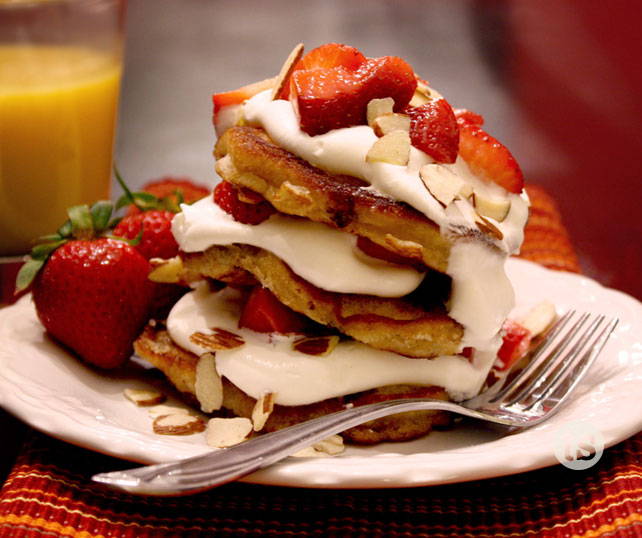 Strawberry Almond Pancakes
Cake for breakfast? Count me in. So rich and buttery, these petite pancakes taste just like our signature pound cake. Stack the plain pancakes on your board like I did, and let your guests add their own fresh berries and whipped cream. They are delicious topped with sliced bananas and a little bit of Nutella, too!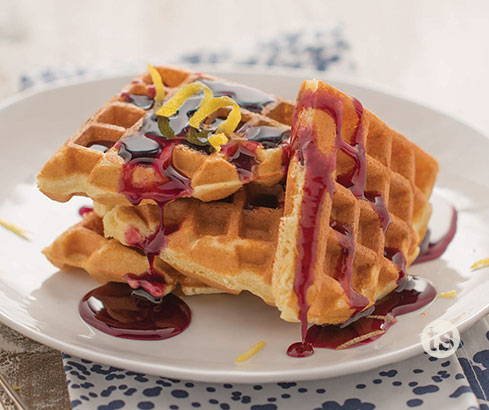 Sunny Lemon Waffles or Pancakes
Kissed with light citrusy burst of lemon, these sunny waffles are so delicious – and so easy! Just add eggs and milk. Serve 'em warm with blueberry syrup.
Tip: you can also mix up the waffle batter using only Packet 1 from your Sunny Lemon Pound Cake Mix. Make the Packet 2 icing as directed on the box, and then drizzle it over warm waffles like I did for my board.
4. Make Fresh-Baked Muffins.
Depending on the size of your breakfast or brunch gathering, muffins are a perfect pastry to make in advance since you don't need to worry about keeping them warm. Plus, everyone can nibble on them early – especially kids!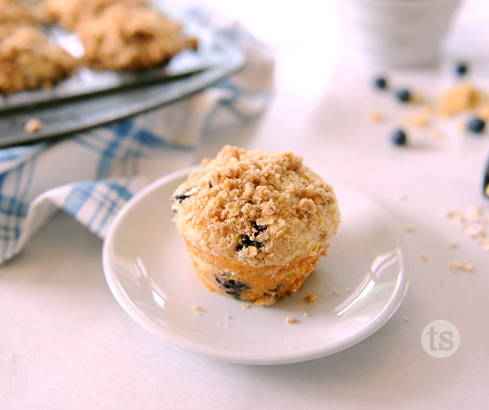 Blueberry Cinnamon Streusel Muffins
Fresh and fluffy, these delicate muffins are dotted with sweet blueberries and topped with a crumbly cinnamon streusel. Perfect with coffee, tea or orange juice.
5. Add a Few Spreads.
Cut a stick of butter into thin slices, so everyone can easily grab a pat or two for their pancakes or waffles.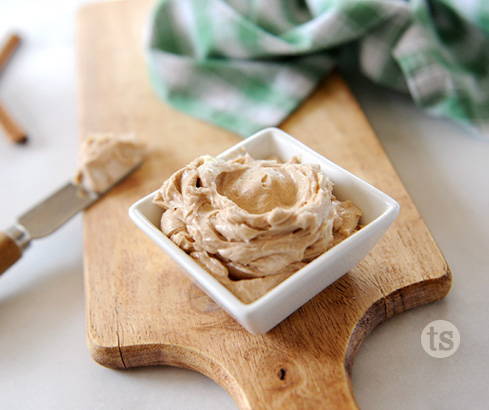 Cinnamon Honey Butter
For a special touch, try this whipped butter sweetened with honey and warm cinnamon spices. It's SO creamy and divine on pancakes, bagels, rolls or toast. Be sure to include a couple small dishes with Rhubarb Strawberry Fruit Spread and chocolate-hazelnut spread (i.e., Nutella), too.
6. Fill in Fresh Fruit.
Make your board into a beautiful bounty, overflowing with different colors and varieties of fresh fruit. Depending on the size of your board, try:
1-2 sliced bananas
1-2 pints fresh strawberries
1 pint fresh blueberries
1 cup fresh raspberries
Sliced melon, kiwi and blackberries would be wonderful, too.
7. Don't Forget the Dip.
Add a dish of sweet and creamy deliciousness for dipping all of that fresh fruit like Mai Tai Fruit Dip. So light, citrusy and refreshing!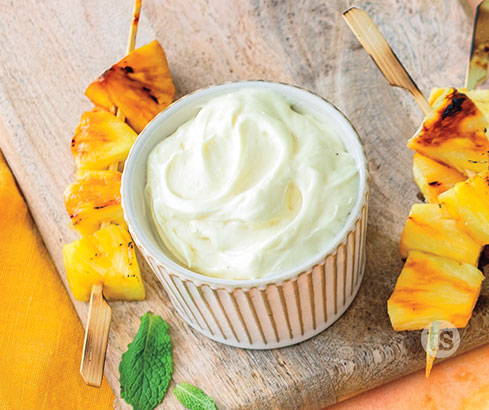 8. Add Different Toppings & Textures.  
You can also include a variety of crunchy toppings like:
– Granola
– Chocolate chips
– Chopped nuts
– Sprinkle for the kids
Use small carafes or cute gravy boats for serving maple and/or berry syrups.
9. Build Your Board in Order of Temperature.
It seems obvious, but when you're ready to actually assemble everything on your board, start with room temperature items first, such as your syrups, spreads, toppings and baked pastries.
Keep your pancakes and waffles warm on baking sheets in a 200°F oven until you're ready to add them to the board.
10. Group Complementary Items Together.
You can also set items that go well together next to each other on your breakfast board. For example, place a dish of fruit dip next to fresh strawberries, set syrups beside your pancakes, or nestle a dish of Nutella beside your sliced bananas.
11. Have Fun with it!
And remember, there's no right or wrong! Have fun with it, and make your board your own.
Here's how mine turned out, once I put it all together: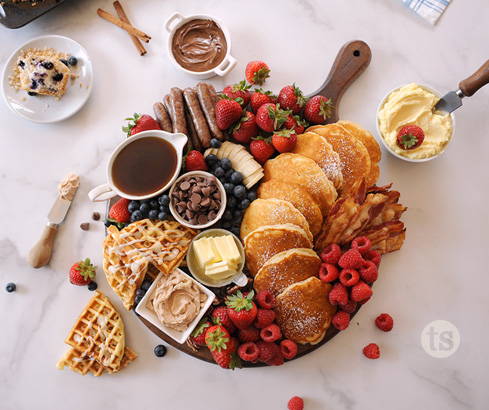 Whatever combinations you choose, you'll have some serious deliciousness – all across the board.
Enjoy, friends!
– Jen