Autumn is almost here, my friends. Grab your favorite sweater, and get cozy … today we're talking about comfort food!

When the temperatures start to fall, honestly there's nothing better than gathering around the table for a deliciously cozy dinner. Now don't get me wrong – I love the convenience of take-out. Even though it gets expensive, we've been going out of our way to support our local restaurants this summer, too. (If you're ever in Fergus Falls, Minnesota, go to Don Pablo's and order the chicken chimichangas. You won't regret it.)

But you can only grab curbside containers so many times every month – for the sake of both your budget and your waistline. As a mom, I always feel better about making a home-cooked dinner for my kids, too.

So what's a busy gal (or guy!) to do this fall, especially if you have kiddos heading back to school? Cut the curbside, and start the season right with Tastefully Simple's NEW Comfort Food 10-Meal Kit!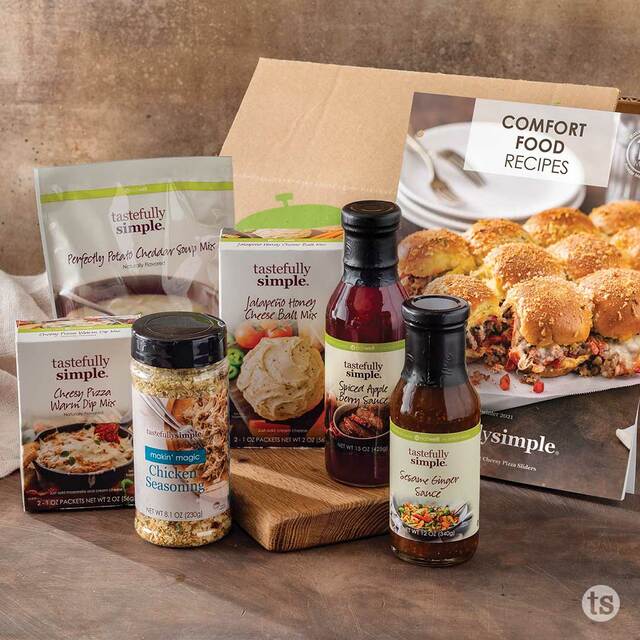 What's Inside Your Kit
Inside, you'll find all kinds of delicious recipes and products to make these 10 cozy dinners:
Chicken & Broccoli Stuffed Peppers
Sesame Ginger Chicken Wraps
Jalapeno Chicken & Potatoes Au Gratin
Meatball Pizza Pasta Skillet
Pull-Apart Cheesy Pizza Sliders
Sweet Potato, Chicken & Sausage Skillet
Creamed Chicken & Biscuits
Jalapeno Cheese-Stuffed Chicken
Sesame Ginger Beef Stir-Fry
Spiced Apple & Bacon Stuffed Pork Chops
Personally, I couldn't WAIT to try the stuffed pork chops, so we made them for dinner this weekend at our house. Smoky-salty bacon. Sweet crunchy apples. Juicy pork. Together, it made for a perfect family dinner, filled with our favorite fall flavors!
Stuffed Pork Chops: How to Make 'Em
Here's how they turned out, complete with step-by-step photos from my kitchen. You can also see the full recipe here: Spiced Apple & Bacon Stuffed Pork Chops
Step 1: Start with Stuffing
Preheat your oven to 400°F. Prepare 1 (6 ounce) package stovetop pork-flavored stuffing mix according to the package directions, using 1½ cups water, ¼ cup butter and ½ cup Spiced Apple Berry Sauce.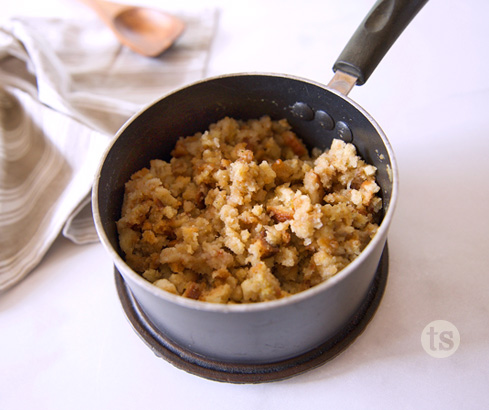 (FYI, I actually used chicken-flavored stuffing, and it was delish!) Step 2: Mix in More Flavors In a large skillet over medium-high heat, sauté 6 slices of chopped bacon until crispy. Remove to clean paper towels; set aside.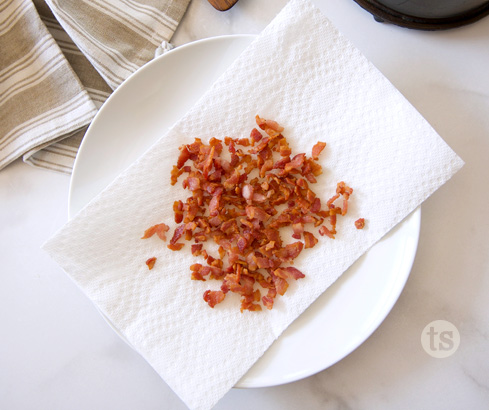 Remove all but 2 tablespoons bacon drippings (reserving 1 additional tablespoon). Add 1 large chopped apple to your skillet, along with 2 teaspoons Makin' Magic Chicken Seasoning. Sauté 3-4 minutes or until softened.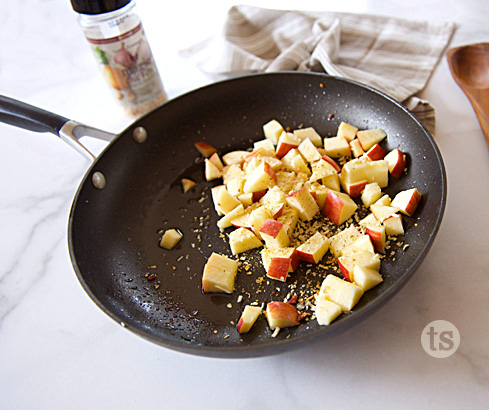 Mix together your stuffing, sautéed apples, bacon and ¾ cup crumbled blue cheese or shredded Cheddar.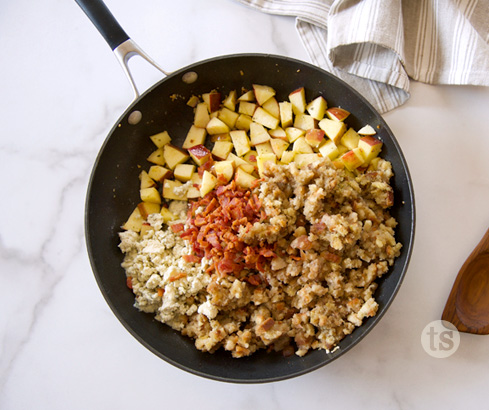 As you can see, I mixed my stuffing together in my skillet, and then I just scooped it into a bowl until I was ready to assemble my chops. By the way, we used blue cheese and LOVED the flavor combination. Cheddar would definitely be milder if you have picky kiddos though!

Step 3: Prep Your Pork Chops

Season 6 boneless pork loin chops with 3 teaspoons Makin' Magic Chicken Seasoning. Or if you prefer, you can use 4 bone-in center-cut chops like we did!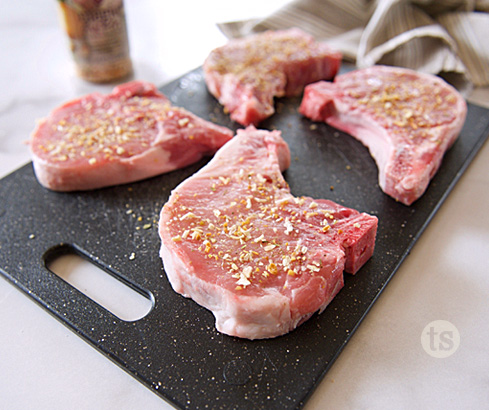 To give 'em a good sear, add your reserved 1 tablespoon bacon drippings back to your skillet over medium-high heat. Add the pork chops, and sear 1 minute per side.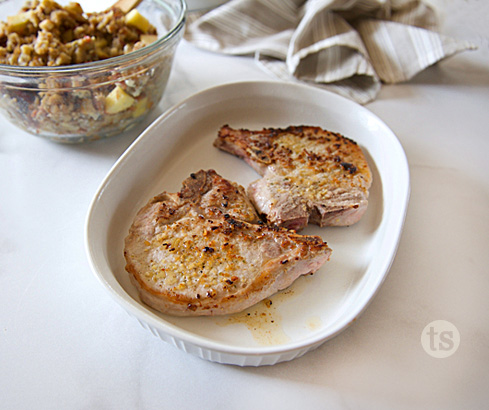 Transfer to a greased baking dish. Top with stuffing mixture, piling it high on top. Bake 20-25 minutes or until internal temperature of pork reaches 155°F on an instant-read thermometer.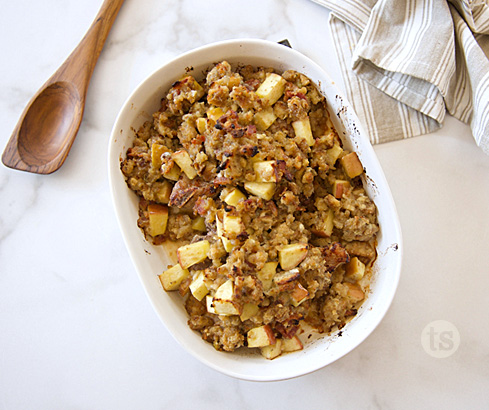 Your kitchen will now smell amazing, by the way. And ta-da! Dinner is served.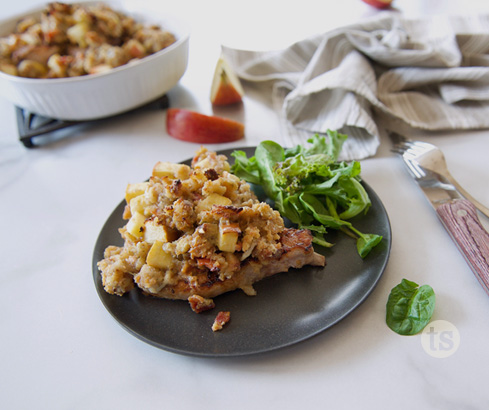 Serve with steamed veggies or fresh mixed greens. These chops would pair beautifully with roasted Brussels sprouts, baked acorn squash or sweet potatoes, too.
Whether you hardly ever cook or love to play with new recipes, I promise – this delicious and cozy dinner will be right in your comfort zone.

Enjoy!

Jen